Instagram: Dua Lipa / DaBaby
Dua Lipa is standing with the LGBTQIA+ community.
In a recent Instagram story, the singer addressed homophobic comments made by her 'Levitating' collaborator DaBaby.
"I'm surprised and horrified at DaBaby's comments," she wrote. "I really don't recognise this as the person I worked with. I know my fans know where my heart lies and that I stand 100% with the LGBTQ community. We need to come together to fight the stigma and ignorance around HIV/AIDs."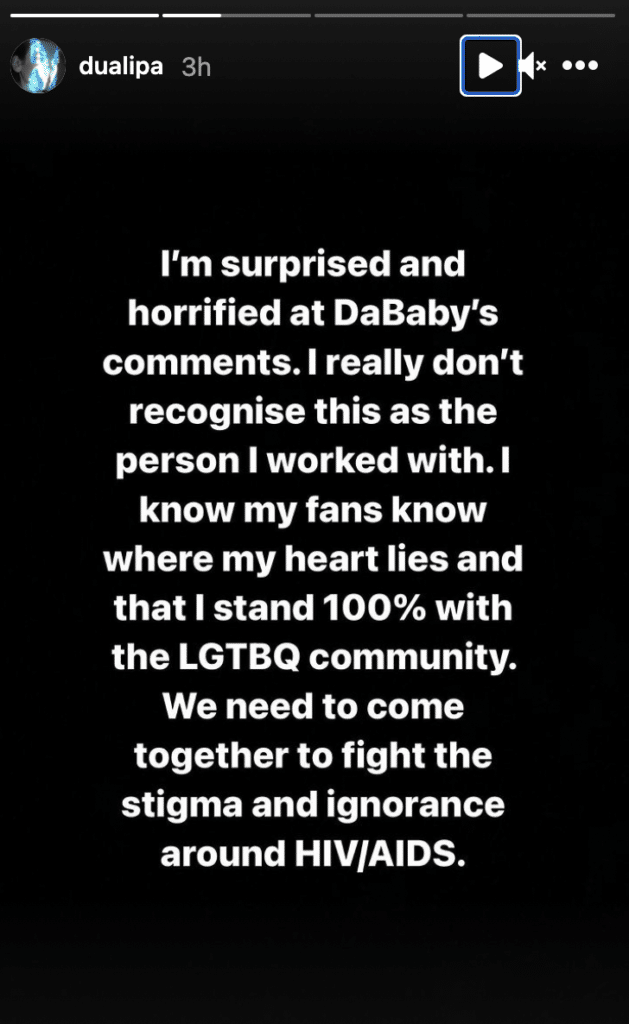 Rapper DaBaby drew controversy following his set at Rolling Loud Miami over the weekend— one of hip hop's largest U.S. events.
Speaking to the crowd, the rapper said, "If you didn't show up today with HIV, AIDS, or any of them deadly sexually transmitted diseases, that'll make you die in two to three weeks, then put your cellphone lighter up."
"Ladies, if your pussy smell like water, put your cellphone lighter up," he continued. "Fellas, if you ain't sucking dick in the parking lot, put your cellphone lighter up."
DaBaby has since addressed his remarks, claiming his words were misunderstood and it's none of the internet's business what he and his fans do at a live show.
His performance was also live-streamed online.
Dua Lipa and DaBaby collaborated on the hit single 'Levitating' off her Future Nostalgia album released last year.
Based on this interaction, we're guessing that will be the first and last time they work together.