Courtesy of Netflix © 2022
Whether you binge-watched the series in one day or have come across its viral dance scene on TikTok's FYP, there's no denying that Netflix's Wednesday has been a smash hit.
The supernatural series puts a modern spin on the original Addams Family narrative, showcasing Wednesday Addams, played by Jenna Ortega, for the first time as a teenager as she navigates friendships, relationships, and a new school.
To bring this iconic character into 2022, hair and makeup designer Tara McDonald worked closely with director Tim Burton and costume designer Colleen Atwood. Together, the team was tasked with giving Wednesday a contemporary teenage glow-up while remaining true to the character's origins.
We spoke with McDonald about how she brought Wednesday and her best friend, Enid Sinclair, to life through contrasting hair and makeup looks that drove the storyline and launched some viral beauty trends.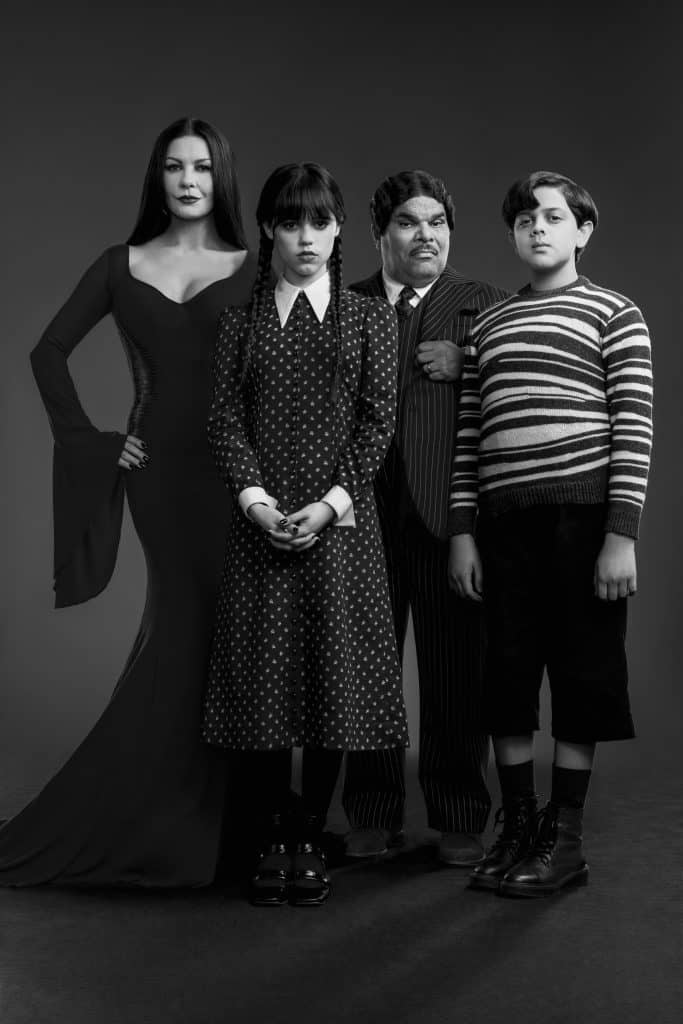 As the Netflix original sees record-breaking numbers for the streaming service, the topic on everyone's lips seems to be Wednesday's lips— or at least her lip colour. "I wanted her to look cool and edgy, contemporary," McDonald tells us. "So I never wanted to go too heavy on the makeup."
Despite stealing the show, Wednesday was actually never meant to wear lipstick. "There was always going to be sort of a fresh buff lip. So I found finally found a lip liner after maybe a week or so of trying to find the right color to match her lips. We finally settled on the M.A.C Nightmoth lip liner." McDonald says she blended the liner with a bit of balm and used that to create the lip colour worn by Ortega throughout the show.
To achieve Wednesday's signature pigtail braids, McDonald avoided using a wig at all costs. "We tried various ways of adding some hair extensions. And we settled on three sort of wefts just clipped into either side of her head, which would be blended in with her own natural hair," she explains. "And a little bit of gel was used to blend the layers in with the pieces to braid her hair."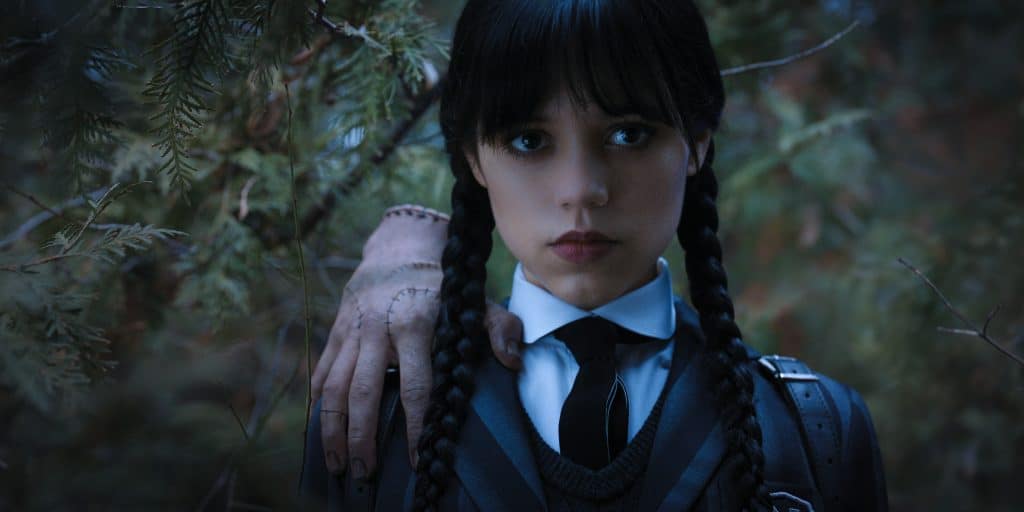 For her fringe, which Burton originally styled himself with a comb to get it just right, McDonald says she opted for a French fringe rather than a classic blunt fringe for a bit more edge.
In addition to Burton collaborating on all aspects of Wednesday's look, Ortega herself was also involved. "[Burton] was pretty clear from the beginning on what she was going to look like," McDonald says. "Jenna was involved and was very important that Jenna was happy with how she looked."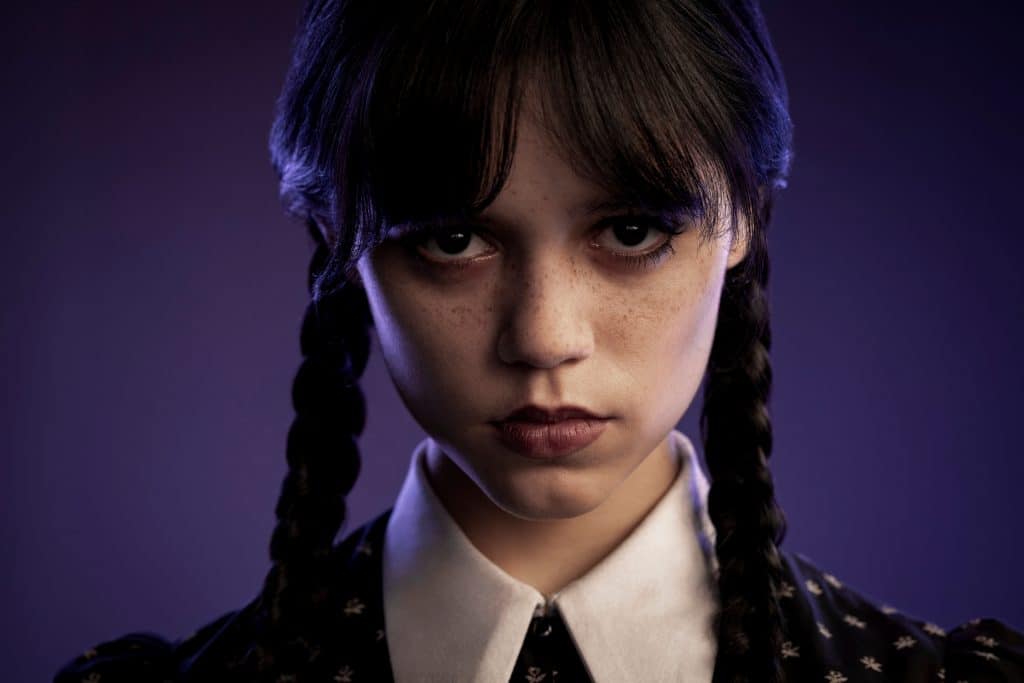 In stark contrast to Wednesday's dark and edgy style, her best friend Enid Sinclair, played by Emma Myers, was light, bright, and colourful. "The brief for Enid was rainbow girl," McDonald says. "I had a wig made for Enid because [Myers] has brown hair and she didn't want to colour her hair."
Attention to detail was incredibly important in conveying the difference between Wednesday and Enid's style— a disparity that certainly translated to the characters' personalities as well.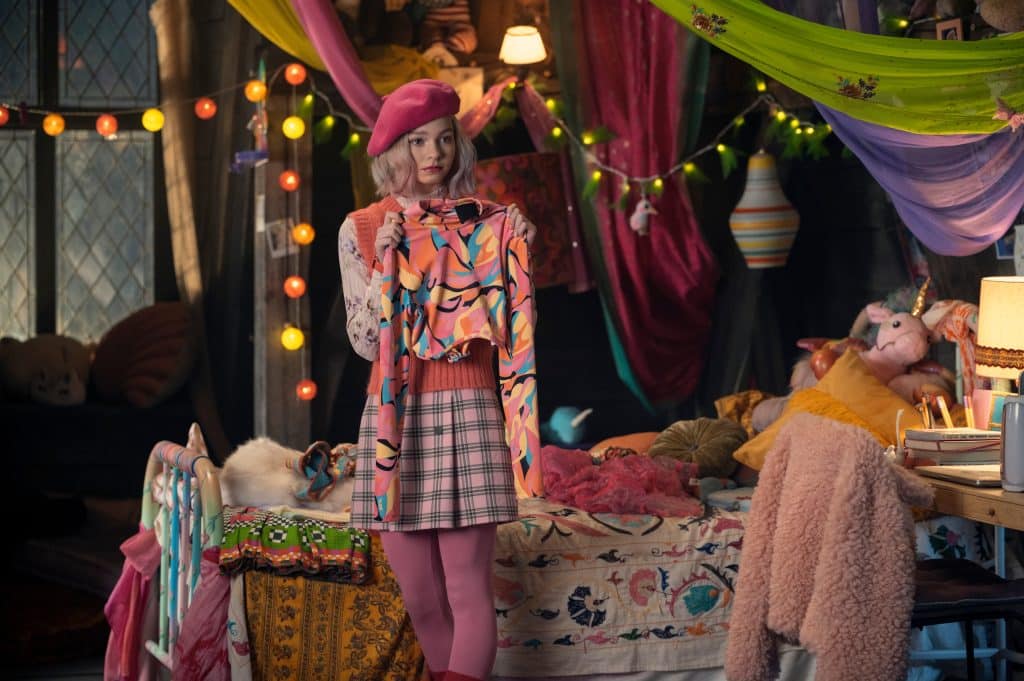 "I don't know if you saw [Enid's] nails, but each individual nail was a different colour. Her eyeshadow— some days we would do rainbow colours so she'd have four or five different colours on her eyelids at the same time and lots of different glosses," she continues.
While Wednesday's makeup was strictly matte, McDonald played around with a dewier look on Enid, favouring Lancome Juicy Tubes and M.A.C Glass Bombs to achieve her glow.
"So no sort of powder for if you're recreating in it, I wouldn't use any powder," she suggests.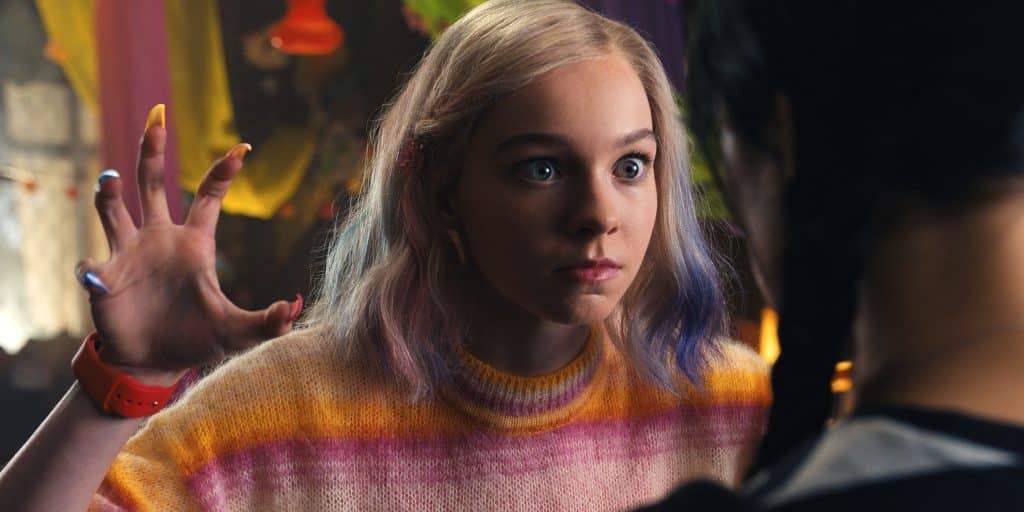 You can watch Tim Burton's Wednesday, exclusively on Netflix now.