Instagram / @noitisashley13
Content creator, Ashley Leechin, has found herself at the centre of controversy.
The 29-year-old, who rose to viral fame as Taylor Swift's doppelgänger, is facing backlash for allegedly lying about being invited to the 65th Annual Grammy Awards.
It all kicked off on January 31 when Ashley shared the "incredible news" with her 1.1 million followers.
"Yes, it is official. I have partnered with the Grammys, yes, the 2023 Grammys, " she announced. "I am headed there this Sunday… It is going to be an incredible night for music."
Posting a sneak peek of her dress and vlogging her flight to Los Angeles, the TikTok star was invited to walk the red carpet and attend the award show as an audience member.
However, by the time Ashley arrived in LA, her invitation to the ceremony had been rescinded. The content creator shared that she would no longer be attending the award show even though she was contractually obliged to announce that she was "partnering with the Grammys" and spent "$2000 on apparel, lodging travel [and] childcare."
Social media users were sceptical of Ashley's claims, with many calling the Taylor lookalike a liar. For instance, @theeswiftologist took to TikTok to question the legitimacy of the viral star, noting that Ashley has misled her followers in the past.
"Is this like that time when you said there was a date pencilled in the calendar for you to meet Taylor in the midst of a pandemic? Similar vibes? A hoax?"
Meanwhile, other creators like @jacygibbs suggested that a company or Taylor's management may have taken away Ashley's invite.
"So, we all agree that she was never going, right?" Jacy says in the now-viral TikTok. "It's either two things, neither of which are better. It's either she was never going, and it's a scam, or she was going, and Taylor Nation was like, never mind."
Ashley was quick to clarify the situation, posting a series of TikToks with screenshots of emails, direct messages, and a contract with Gen Z media company Sweety High.
The content creator explained that Sweety High contacted her on January 18, asking whether she would be interested in partnering with the Grammys, where she was chosen to add a "Swiftie take" to their coverage of the award show. However, the outlet explained that while they could provide the ticket to the ceremony, Ashley would need to cover the trip's costs.
"[Sweety High] explicitly told me that no flight was going to be paid for, my lodging needed to be out of my pocket and that they don't promise any compensation", Ashley notes.
Ashley went on to share the "initial contract" with Sweety High, outlining the content she was obliged to post for the partnership.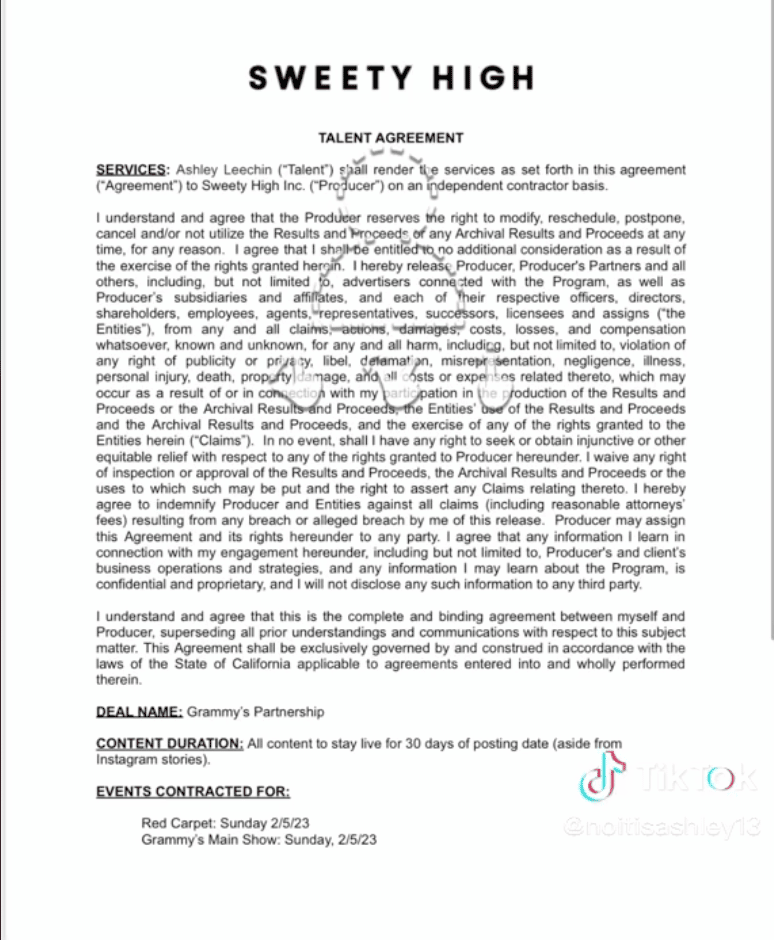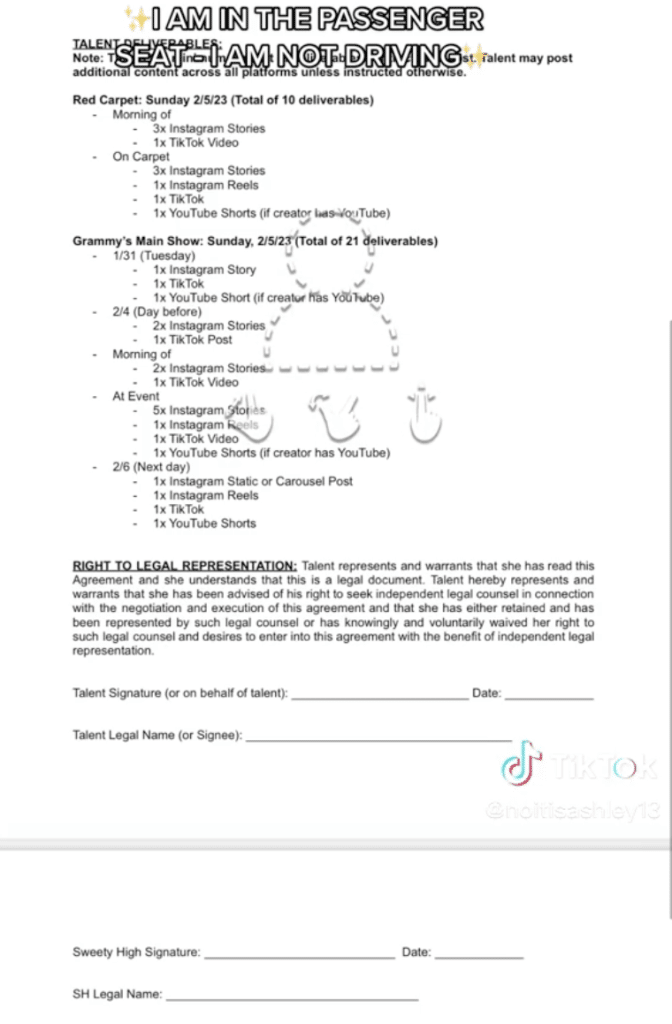 Following discussions with her team, Ashley later sent over her own deal memo requesting someone to walk with her on the red carpet.
"I was very adamant that I needed someone to walk with me down the red carpet to feel comfortable, and they refused to allow that for me", she explains. "I wanted to protect myself, so I made this deal memo to ensure that no press, no videos, no photos would be mistaken and would have the Taylor Swift name on it."
After the company confirmed that a "staffer would be there to help you" Ashley was scheduled to attend the event.
When the content creator landed in LA and found out that she no longer had a ticket she contacted Harvey Mason Jr, the CEO of the Recording Academy. She also went on to say that a Sweety High representative, "wanted to give [her] a bunch of money."
"It wasn't about the money for me. It was more about the experience," Ashley explained. "After [a Sweety High employee] found out I had reached out to the CEO she got very, very angry, and tried to offer more money to keep me quiet… I have also since learned that the contract is non-binding."
Sweety High has not responded Ashley's claims at the time of publication.
Check back for updates.