Andrew Tate
https://www.instagram.com/p/ChIntP8hwbE/
Could Andrew Tate's reign of terror be coming to an end?
On August 22nd, TikTok removed the account of kickboxer-turned-self help coach, Andrew Tate.
Andrew found astronomical success on social media this year after podcast clips, from both his own and guest appearances, went viral on the platform for his outwardly derogatory views about women.
This virality helped catapult Andrew's career as a self-help guru, encouraging young men around the world to embrace toxic masculinity and get-rich-quick through his very own course, Hustler's University. Members, including 13-year-old boys, are told they can earn up to £10,000 a month through lessons on crypto investing, drop shipping, and by recruiting others to Hustler's University via an affiliate program, earning 48% commission for each person they refer.
While the affiliate program was shut down just two days ago, members were also encouraged to get sign-ups by starting "arguments" on social media. Many did so by posting controversial clips of Andrew to various platforms, which only furthered his exposure and influence.
Now, it seems his exposure might finally dwindle after both Meta and TikTok have banned the proud misogynist from their platforms off the back of an investigation from The Observer. Twitter had previously banned Andrew's account after he said women should "bear some responsibility" for being raped amid the #MeToo movement.
On August 20th, Meta banned Andrew from both Facebook and Instagram for "violating its policies on dangerous organizations and individuals." Hustler's University closed its affiliate program just hours later.
Following suit, TikTok has barred the podcaster as well. In a statement to The Washington Post, the app said that Andrew's account was banned for violating the company's policies that do not tolerate "content that attacks, threatens, incites violence against, or otherwise dehumanizes an individual or a group."
The company also told The Independent that they are working to remove clips of Andrew's content posted by other users— a huge win for women, as videos of the 35-year-old spewing sexist vitriol have been seen over 13 billion times on the app.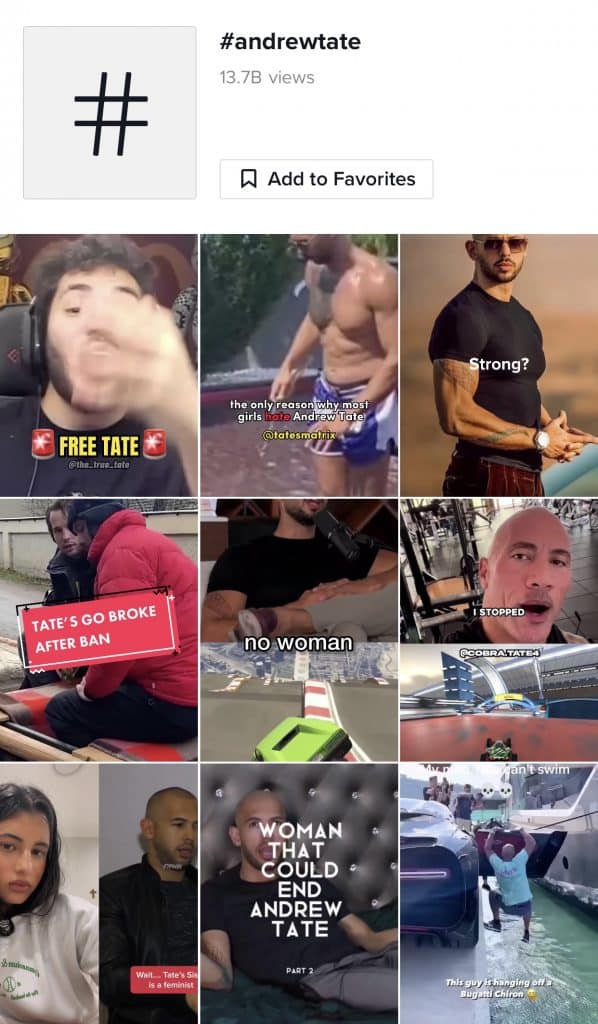 While Andrew's account is no longer visible on TikTok, hundreds of accounts dedicated to spreading his message remain active from his fans.
But if TikTok stays true to its word in removing content featuring his clips, Andrew Tate's war on women might thankfully lose momentum sooner rather than later.