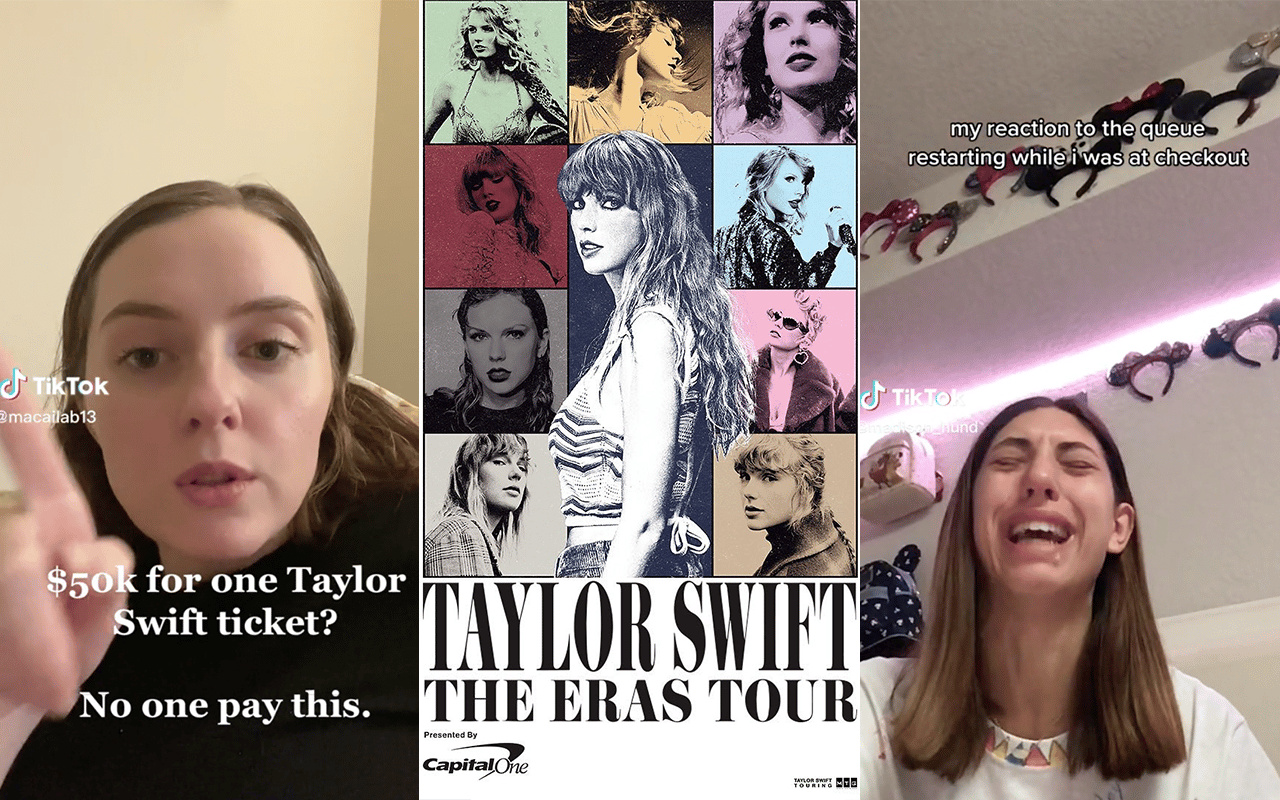 Ticketmaster dropped the ball, and Swifties won't soon let the company forget it.
On Tuesday, millions of Taylor Swift "verified fans" rushed to Live Nation's Ticketmaster website to try to score presale seats for her highly-anticipated The Eras Tour, announced earlier this month.
The tour will be Taylor's first in over four years, and given that she's released six No. 1 albums in that time, (Lover, folklore, evermore, Fearless (Taylor's Version), Red (Taylor's Version) and Midnights), the demand for tickets was expected to be high.
The influx of visitors to Ticketmaster's presale caused periodic outages and long online waits, with several fans posting that they were at the back of a "2000+" queue that wasn't moving for hours.
The site said in a statement that "historically unprecedented demand" for Taylor's tour had seen millions of people attempt to buy presale tickets, which had caused "intermittent issues" that the company was "urgently" working to resolve.
Once fans finally got through (some after waiting over eight hours!), many claimed that every ticket was already sold out for the day and the tickets that were left had been posted for resale for up to $50,000+ USD.
There are arguably two factors that contributed to this disastrous presale scenario— aside from the obvious facts that Taylor is wildly popular, hasn't toured in years, and there are simply more people that want to see her perform than there are tickets available.
First, as Rep. Alexandria Ocasio-Cortez tweeted, Ticketmaster is a monopoly.
The site merged with Live Nation in 2010, creating a centralised service that reportedly sells around 70% of all live venue entertainment tickets in the United States. Activists have criticised Ticketmaster for abusing their power and exploiting fans, artists, and independent venues.
Ticketmaster's dynamic pricing structure is the second element that played a role in fans' inability to secure presale tickets.
According to the site's FAQ page, dynamic pricing is an optional sales model (for which the artist must opt-in) that allows tickets and fee prices to "adjust over time, based on demand".
Ticketmaster previously came under fire for implementing dynamic pricing for Bruce Springsteen's 2023 tour. While most tickets were sold at face value, some fans encountered tickets being sold for thousands of dollars after waiting for hours in the queue.
While the idea behind dynamic pricing is that Ticketmaster weeds out the resellers by automatically raising the price if demand is high, that is rarely the case.
Journalist Jason Koebler for Motherboard explains that serious ticket scalpers have "far more advantages" in securing presale tickets than the average person does.
"There is rarely a presale that ticket brokers don't have access to. There are a variety of pay forums (Shows on Sale, which costs $150 per month, is one of the largest) where brokers share strategy, sell software, and share presale passwords. Ticket brokers join artist fan clubs, because they can make up the joining fee in profit on the tickets," he writes. "The Eras Tour is sponsored by Capital One, and anyone with a Capital One credit card has access to specific presales. It is common for ticket brokers to have and open specific credit cards just to get access to presales."
Understandably, fans are unhappy with Taylor for not opting out of the controversial business model.
It seems day two of the presale didn't go much better, with fans reporting that they were bumped out of the queue or the website refreshed after making it as far as checkout.
Now, Swifties are expressing their disappointment in Taylor for failing to comment on the situation as of yet.
"I don't know enough [about] Ticketmaster but I feel like everyone profits off this, especially the resold tickets and unfortunately that includes Taylor Swift," TikTok creator @rachelbrown40 said in a video.
One user commented on Rachel's video, "[Taylor] should def be held accountable. In the past she's stood up for stuff why can't she stand up now and make a change."
On Thursday, Ticketmaster cancelled the public on-sale for The Era's Tour, citing, "extraordinarily high demands on ticketing systems and insufficient remaining ticket inventory to meet that demand."
As one fan put it, "When Taylor said "I think there's been a glitch" she was talking about the Ticketmaster verified fan presale for The Eras Tour."