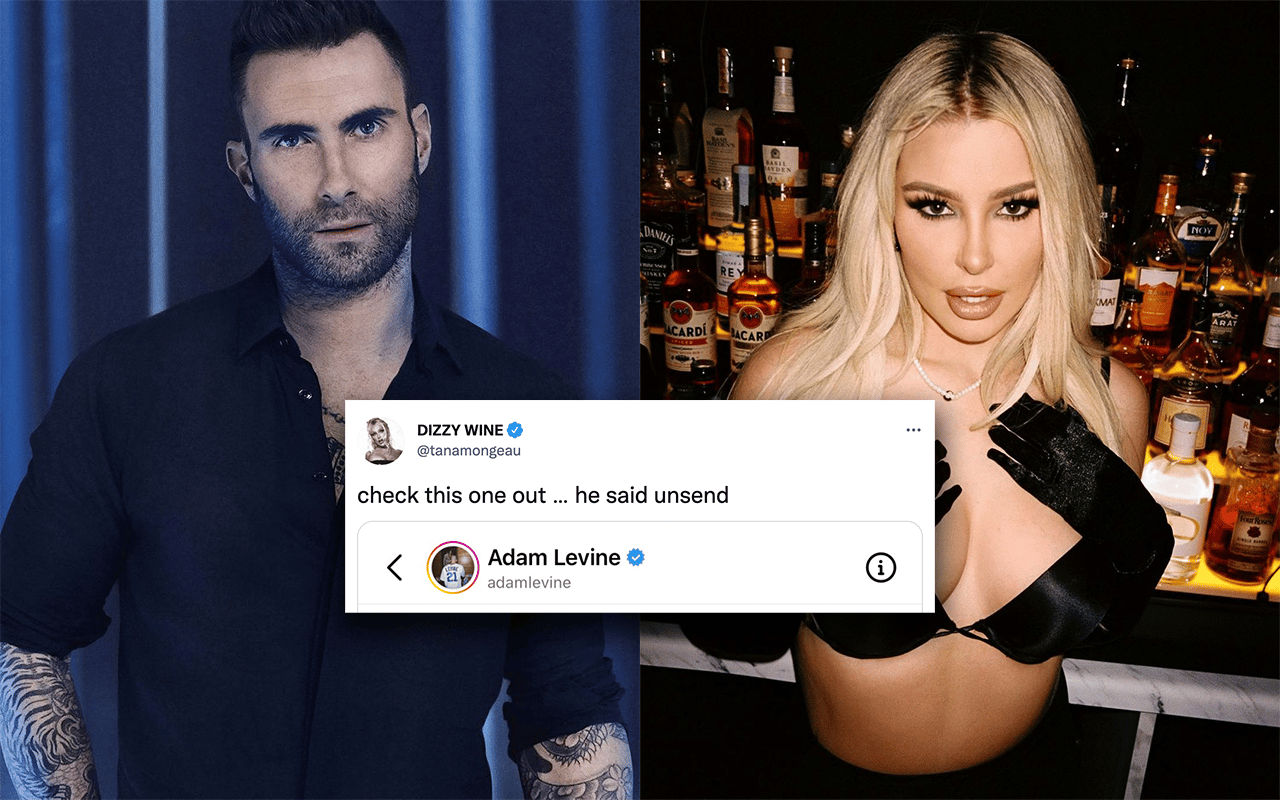 https://www.instagram.com/p/CiQi7sXv8OZ/
https://www.instagram.com/p/Ciuud5Zv2vq/
Multiple women have come forward accusing Maroon 5 singer Adam Levine of sending them inappropriate messages and this week, YouTuber Tana Mongeau joined that list. 
In a tweet posted Tuesday, the 24-year-old claimed that Levine once slid into her DMs to relay a message he later unsent. "Check this one out … he said unsent," she wrote, posting a screenshot of the alleged exchange on Twitter. 
Tana then threatened to post a screen recording of her DMs to back up her claim. "Shall I drop the screen recording on TikTok," she tweeted. "Don't play me".
It is unclear if Levine unsent the alleged DM before or after the other women came forward.
Adam Levine has been exposed for allegedly cheating on his wife
Tana's accusation comes after Instagram model Sumner Stroh posted a now-viral, TikTok claiming she had a year-long affair with the singer.
 "Essentially, I was having an affair with a man who's married to Victoria's Secret model," she begins her video — referring to Levine's Adam's wife, Behati Prinsloo.
The couple have been married since 2014 and share two children, daughters Dusty Rose and Gio Grace. They are currently expecting their third child together.
"At the time, I was young, I was naive, and quite frankly I feel exploited. I wasn't in the scene like I am now, so I was definitely very easily manipulated," Sumner explains.
In the video, Sumner shares screenshots of the messages sent between her and Adam.
One of the messages from Adam reads, "It is truly unreal how f–king hot you are. Like it blows my mind." Sumner responded, "I mean I think the same. Seeing you in person I was like … I'm f–ked."
In a follow-up video, the model says that she thought that Levine's marriage was over, which is why she began her relationship with him. 
"I believe that they were keeping it quiet to avoid the negative press… that's why I feel exploited because he knew I'd believe everything that he said, because of my vulnerable position of being new to LA."
Sumner then goes on to say that the pair haven't spoken in months, but that on June 1st of this year, the frontman sent her a new Instagram message asking if he can name his new baby after her.
"Ok serious question. I'm having another baby and if it's a boy I really wanna name it Sumner. You ok with that? DEAD serious," Levine allegedly wrote.
More women accuse Levine of inappropriate messages
Tana and Sumner are apparently not the only ones that received inappropriate messages from the artist. Influencer Alyson Rosef posted (a now-deleted) TikTok sharing screenshots of alleged messages between her and Levine. One of them included a message from him that read, "I shouldn't be talking to you you know [that] right?"
In her video, Alyson says, "I guess if any other girls have experienced this with him, I just think they should post it 'cause I feel really bad for his wife, and nobody deserves this."
A second woman who goes by the name Maryka on social media shared what she claims is an Instagram exchange in which Levine told her he was "obsessed" with her and urged her to "distract yourself by fucking with me!" She also posted a video she said Levine sent her where he said, "I'm stupid."
Maryka responded by saying, "Dude, aren't you like married?", to which he replied, "Yes but it's a bit complicated. Stuff gets hard and the vid thing didn't help. I might get away."
Levine responds to the accusations
The singer has responded to Sumner's initial video in a statement. "I used poor judgement in speaking with anyone other than my wife in ANY kind of flirtatious manner," he wrote. "I did not have an affair, nevertheless."
"In certain instances it became inappropriate; I have addressed that and taken proactive steps to remedy this with my family. My wife and my family are all I care about in this world. To be this naive and stupid enough to risk the only thing that truly matters to me was the greatest mistake I could ever make," Adam concluded. "I will never make it again. I take full responsibility. We will get through it. And we will get through it together."
Hollywood responds to the accusations against Levine
Following the release of his statement, many Hollywood stars took to their social media platforms to weigh in on the scandal — with some still labelling him a "cheater," despite his denial.
Selling Sunset's Chrishell Stause took to Twitter to voice her opinion. "When apologising for cheating publicly, I hate the – we will get through it together part from a man," she wrote. "Don't speak for her. You've done enough."
Queer Eye star Karamo Brown also commented on the situation when he appeared on the Bevelations podcast. "It's one thing if you're having an affair and you've disrespected your wife in that way. The disrespect that got me was the baby naming," he said.
Other celebrities have called out Sumner for exposing Levine publicly, rather than dealing with it privately. 
Actress Sara Foster slammed Sumner on TikTok. "This woman who chose to make a viral TikTok video … putting it out there for the world to see for a pregnant woman to see when she could have just messaged her privately … We don't feel sorry for you," she said in the video. "You knew this man was married and you participated."
Meanwhile, model Emily Ratajkowski has come to Sumner's defence, criticising society's quick judgement towards women instead of married men. Emily stitched Sara's TikTok and said, "I don't understand why we continue to blame women for men's mistakes, especially when you're talking about 20-something-year-old women dealing with men in positions of power who are twice their age." 
"Also, if you're the one in a relationship, you're the one obligated to be loyal so the whole other woman to blame, that's bad and it's literally designed to keep women apart."
Despite the various opinions on the matter, one thing the internet is clear on is who was hurt by it all. One user commented on Emily's video, "The only victim here is Behati, Adam's wife. She doesn't deserve this at all."
Prinsloo has not responded to the allegations made against her husband at the time of writing.