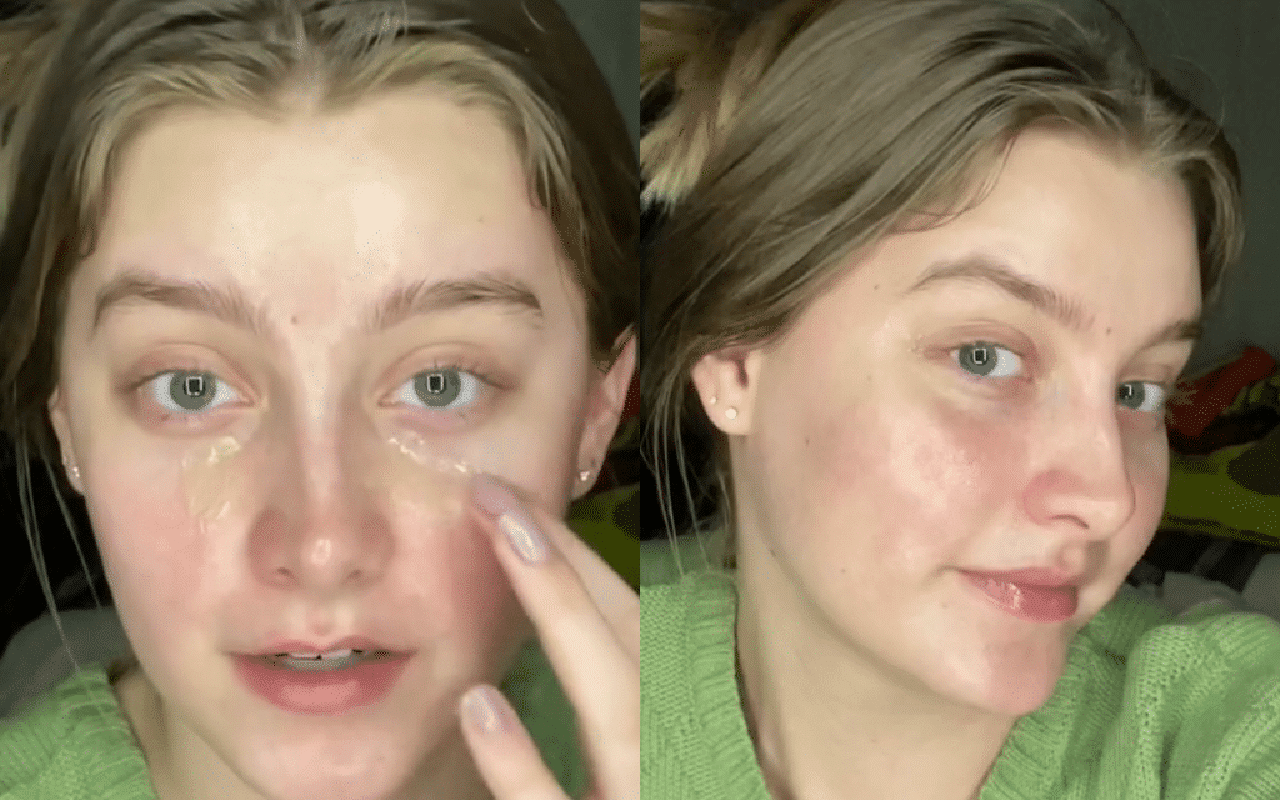 TikTok / @therealfaithallison
If you've been scouring the internet for some new beauty tips, chances are you have come across slugging – TikTok's go-to skincare hack.
ICYMI, TikTok users have been slathering their faces in petroleum-based moisturisers as the last step of their skincare routine. Leaving Aquaphor, CeraVe, or even Vaseline on overnight, slugging leaves you looking like a perfectly glazed donut.
Slugging is a tried-and-true Korean Beauty practice. But, it is also worth noting that slugging – otherwise known as "greasing up" – has long been a part of Black women's beauty routines.
So, while the trend isn't exactly anything new, slugging has found a new audience of Gen Zs, thanks to TikTok and Reddit. The latest slugging craze started on Reddit a couple of years ago, with subreddits like r/SkincareAddiction popularising the skincare hack.
At the time of writing, #slugging has accumulated over 163.1 million views on TikTok, with the view counts of many slugging tutorials sitting in the millions. In fact, content creator @therealfaithallison's demonstration has amassed over 4.2 million views alone.
But a question remains; what does slugging actually do? And more importantly, does it work?
The benefits of slugging
It's no secret that slugging is a great way to keep your skin hydrated. Placing a thick layer of petroleum-based emollient acts as a protective barrier for the physical layer of the skin, preventing transepidermal water loss – dermatologists' jargon for the evaporation of water from the skin into the atmosphere.
But, the benefits don't stop there. Not only does this technique moisturise your skin, but it also helps the top layer of your skin heal, leaving a more plump and youthful appearance.
I guess SkinTok really is the gift that keeps on giving.
Slugging is not for everyone
Dermatologist and skin expert Lindsey Zubritsky, otherwise known as @dermguru, has taken to TikTok to clarify "when you should not slug".
According to Lindsey, slugging is inappropriate if you use retinoids or products with alpha-hydroxy acids. Slugging can also lead to breakouts and cause further irritation if you have acne-prone or oily skin, she goes on to say.
So, how should I slug?
Ah – the question we have all been asking. If you have dry, sensitive skin, here is your step-by-step guide.
Step 1: Cleanse your skin. Since slugging locks everything in, making sure your skin is clean is essential. Any remaining bacteria sitting on the skin will likely lead to a breakout.
Step 2: Hydrate your skin. Using a light moisturiser or serum before slugging will help lock in the moisture.
Step 3: Apply a pea-sized amount of your petroleum-based product. You can slug all over the face or just select areas prone to dryness and irritation. Waiting for the Aquaphor, CeraVe, or Vaseline to sink in before going to bed will stop the product from sliding off your face during your sleep.
Happy slugging! 🐌