Hailey Bieber & Selena Gomez
Selena Gomez is asking her fans to leave Hailey Bieber alone.
In an Instagram story posted on Friday, the Rare Beauty founder issued a short statement to her 400 million followers about the recent online drama between the two women.
"Hailey Bieber reached out to me and let me know that she has been receiving death threats and such hateful negativity," she wrote.
"This isn't what I stand for. No one should have to experience hate or bullying. I've always advocated for kindness and really want this all to stop."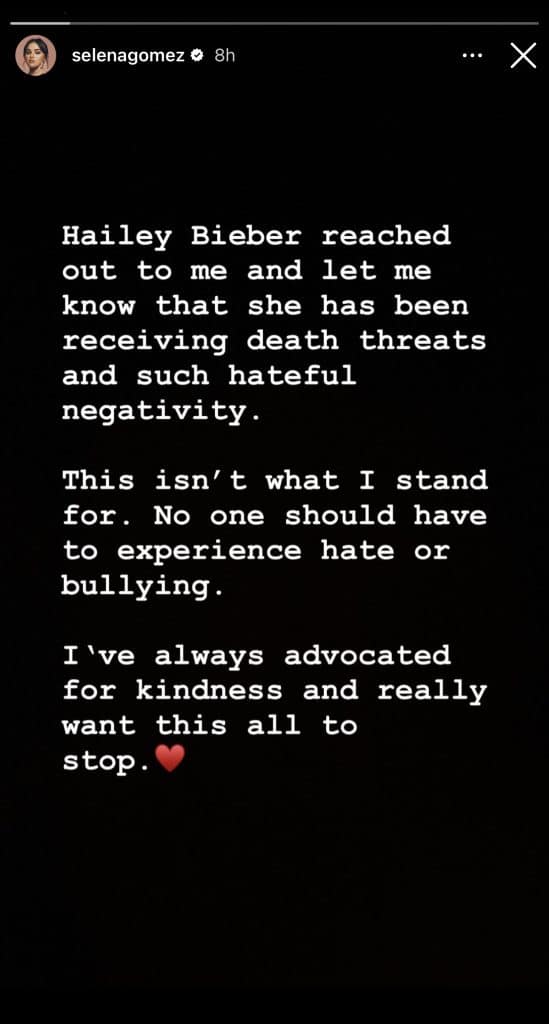 Selena's statement comes off the back of a rumoured feud last month between herself and Kylie Jenner, in which Kylie was accused of publicly mocking Selena's eyebrows after Selena posted on TikTok debuting a fresh brow lamination and saying she wished she was as pretty as Bella Hadid.
Fans also suggested that Hailey was involved in the mockery after Kylie posted a screenshot on Instagram stories of a FaceTime call with Hailey where both women zoomed in on their eyebrows.
Selena and Bella both dated The Weeknd, while Selena was in a long-term relationship with Hailey's now-husband, Justin Bieber. Hailey has been a close friend of the Kardashian-Jenner family for years, hence why some fans were inclined to believe that Kylie would participate in mocking Selena in support of her friend.
Amid the drama, Selena allegedly commented on a resurfaced TikTok video of Hailey shading Taylor Swift at an award show. In the now-deleted video, which was clearly years old, Hailey makes a gagging face at the mention of Taylor's name while on stage co-presenting.
"So sorry, my best friend is and continues to be one of the best in the game," Selena reportedly commented about Taylor.
Adding fuel to the fire, Selena was also commenting on several TikTok videos where fans expressed their support for the singer and sometimes spoke negatively of Kylie and Hailey. This seemed to indirectly encourage fans to mass cyberbully Hailey.
Hours after Selena issued her statement to fans, Hailey thanked her via her own Instagram story.
"I want to thank Selena for speaking out, as her and I have been discussing the last few weeks how to move past this ongoing narrative between her and I," she started.
"The last few weeks have been very hard for everyone involved and millions of people are seeing so much hate around this which is extremely harmful. While social media is an incredible way to connect and build community, moments like this only create extreme division instead of bringing people together."
She continued: "Things can always be taken out of context or construed differently than they were intended. We all need to be more thoughtful about what we post and what we say, including myself. In the end, I believe love will always be bigger than hate and negativity, and there is always an opportunity to meet each other with more empathy and compassion."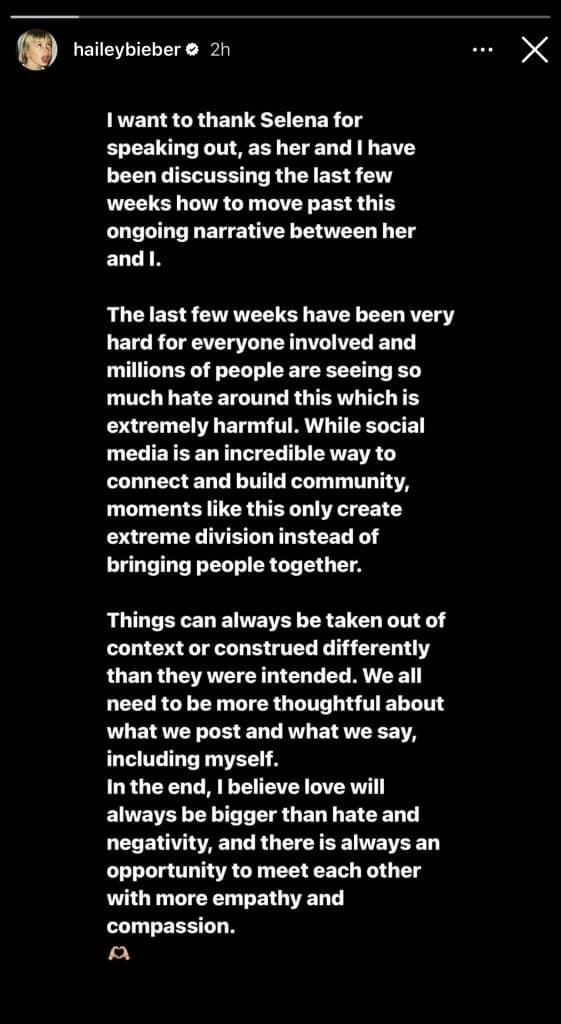 Soon after these statements, Selena and Hailey sent an even stronger message to fans by following each other on Instagram.
Here's to burying the hatchet once and for all.