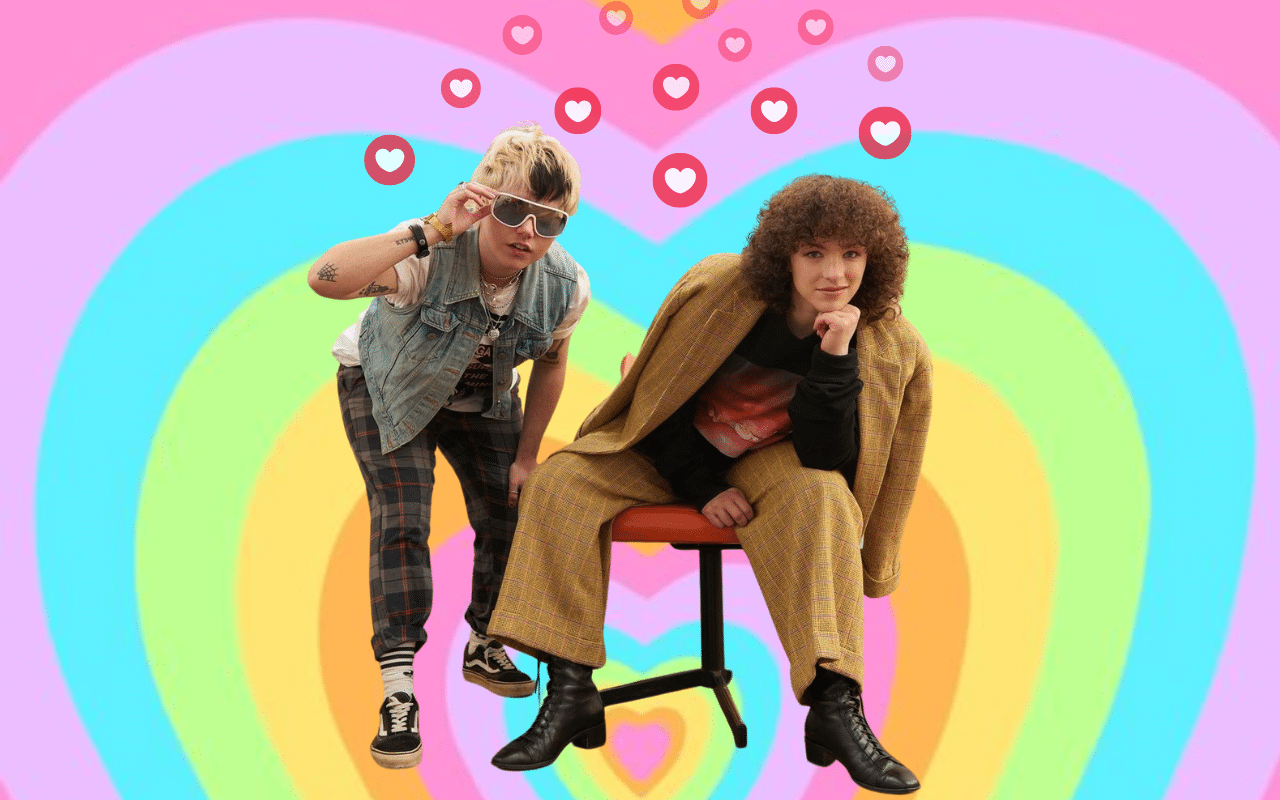 Rainbow History Class
Scroll through Aussie TikTok long enough and chances are you'll come across Rainbow History Class.
Co-created by Hannah McElhinney and Rudy Jean Rigg, Rainbow History Class started as a TikTok account to share LGBTQIA+ stories from history that can inspire and validate the queer and trans communities.
Since launching just two years ago, Hannah and Rudy's vision has found immense success, developing into a full-fledged mini media empire that encompasses their educational social media platforms, live shows, merchandise, and a book, recently turned into an Audible exclusive audiobook, appropriately titled 'Rainbow History Class'— written by Hannah and narrated by Rudy.
I spoke with Hannah and Rudy about the vision behind the RHC brand, their explosive success, and what we can expect from the Rainbow History Class book.
At its core, Rainbow History Class is a response to the unfortunate reality that much of queer and trans history has been erased over the years, and the stories that haven't been erased are rarely taught in school curriculums.
"I had the idea for it when I was thinking about how I didn't get taught any LGBTQ+ history, or really any LGBTQ+ anything in school," Hannah says. "I had this idea that if I had learnt [LGBTQ+ history], perhaps my experience coming out might have been easier and might have happened sooner."
She emphasises the importance of community in shaping the LGBTQ+ experience, particularly in relation to coming out. "I would've felt less alone," she continues. "Or maybe more connected to a whole history and culture of people that have kind of paved the way for my identity and the identities of people like me."
The decision to bring these stories to TikTok in 2021 was a strategic one, as creators making educational content across science, art, and pop culture were finding great success on the platform at the time.
As the researcher and writer, Hannah says she knew the account would need a host who could "bring it to life" and had the "X factor"— something she evidently found in Rudy.
Within five days of launching the account, Rainbow History Class had over 10K followers and counting.
"It's been such a validation of the things that I thought might be useful and interesting," Hannah says of RHC's growth. "It's always really wild to me when we meet people that have come across the channel and they'll often things like, 'Oh wow, I send your videos to my homophobic uncle to prove a point.' Or, 'Your stories have really helped me'.
Now boasting half a million social media followers tuning in to listen to these trans and queer stories, Rudy says the success of RHC shows that people are recognising the importance of learning about the community they belong to and who came before them.
"What started out as 1-minute scripts really turned into this hugely passionate community and this whole school of queer history," Rudy adds. "Being the main host of the channel, I have had countless people come up to me and say, 'I've never seen anyone like me ever, but here you are.' I think that's something that I never expected people to say. So to be able to share our community's stories and history while also making people feel seen, I think that is a really revolutionary concept."
After two years of educating people online and at live shows, writing a Rainbow History Class book was the natural next step for Hannah.
"I wanted to create something that was a bit like a catch-up to people that were new to the community or beginning to have an interest in their community," she says. Similar to the TikTok account, Rainbow History Class was researched and written by Hannah, while the audiobook is narrated by Rudy.
As for what readers can expect, the book covers queer and trans history from ancient civilisations up to more modern times. While it's designed to be accessible rather than academic, Hannah emphasises how hard she worked to "retain the nuance of history and not glitter-soak…or 'yassify' it."
"Some of the stories in there are ridiculous and funny, and then some are powerful," she says of the content. Though the book is packaged into a digestible read, Hannah spared no effort in its research and verifying the accuracy of each story, using a combination of archival documents, academic literature and journals, parliamentary transcripts, court documents and letters, and interviews with elders to bring the project to paper.
When asked about her favourite story to research and write for the book, she mentions The Blood Sisters of the HIV/AIDS Epidemic.
"I am very passionate about telling the stories of the HIV/AIDS crisis and in particular, the role of lesbians during that time," Hannah says. "There's a little story in there called The Blood Sisters of the HIV/AIDS Epidemic, which really talks about lesbian blood drives and how, at the time, men who have sex with men weren't able to donate blood. That occurred at the same time when [people who were HIV positive took medication] that required very regular blood transfusions. And so, it was this real shortage of blood and so lesbians actually organised their own blood drives where they all these lesbians kind of, rolled up their sleeves and donated their blood to the gay men that needed it."
It was important to Hannah and Rudy that Rainbow History Class also be available as an audiobook to enhance the audience experience. The audiobook will also feature a bonus chapter exclusive to Audible in which Rudy will talk to Hannah about the book, writing Rainbow History Class, and the parts of history that just didn't fit the word count.
"It's going to be really exciting for our community to hear our stories and our history in a form that's like a TikTok, but not, and they can just chuck it in their ears and find themselves on this sort of, journey through time," Rudy explains.
Hannah also notes how rare it is to hear trans voices represented in audiobooks, another reason this project with Audible is so important to her.
"We talk a lot about visual diversity and representation in our community, but voice diversity and representation in audiobooks is new and so important and it's such a privilege to have Rudy reading this story," Hannah finishes.
Rainbow History Class, narrated by Rudy Jean Rigg is only available on Audible. The audiobook is free for Audible members and can be found at audible.com.au/rainbowhistory.