@jeffreestar
It seems Jeffree Star has gone full conspiracy theorist as he reflects back on his scandals.
As we approach the new year, Jeffree took to Twitter today to share some words of gratitude in a post that has shocked fans.
"What a crazy fucking year… I escaped the Illuminati in 2021 and they still haven't killed me," Jeffree wrote. "Every day I wake up grateful."
The disgraced beauty YouTuber continued, saying that the "Hollywood elite" tried to ruin his career and villainize him in the media because he "was going to expose everything" back in 2020. Though he did not clarify what or whom he was planning to "expose," Jeffree went on to claim that Britney Spears and Kanye West have also fallen victim to these people.
"If you guys only knew the truth about what they are doing to Britney & Kayne," he tweeted. "Anyone who challenges the system gets eliminated."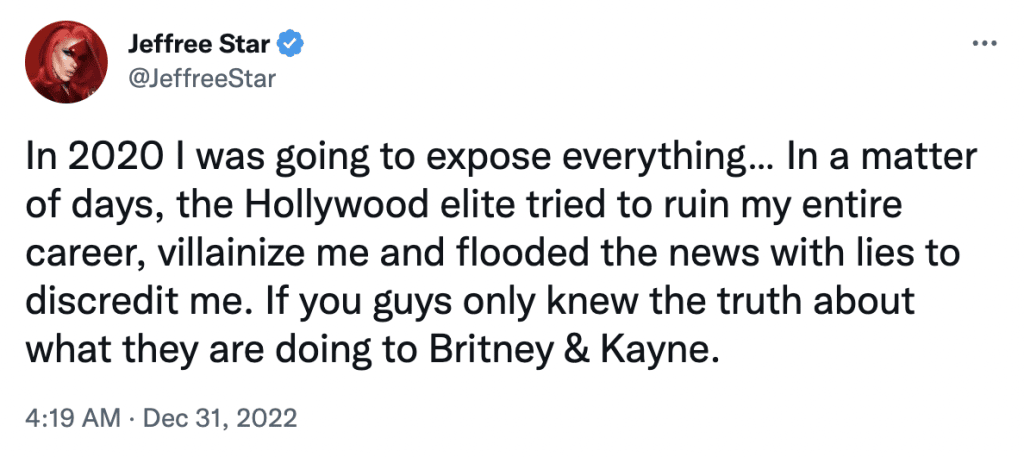 In response to a fan who tweeted that "Kanye is in hiding because they are trying to get him for exposing a lot of shit," Jeffree tweeted, "You have no idea what you are talking about… It's 10 times worse than you can ever imagine. Just be thankful you are on the other side."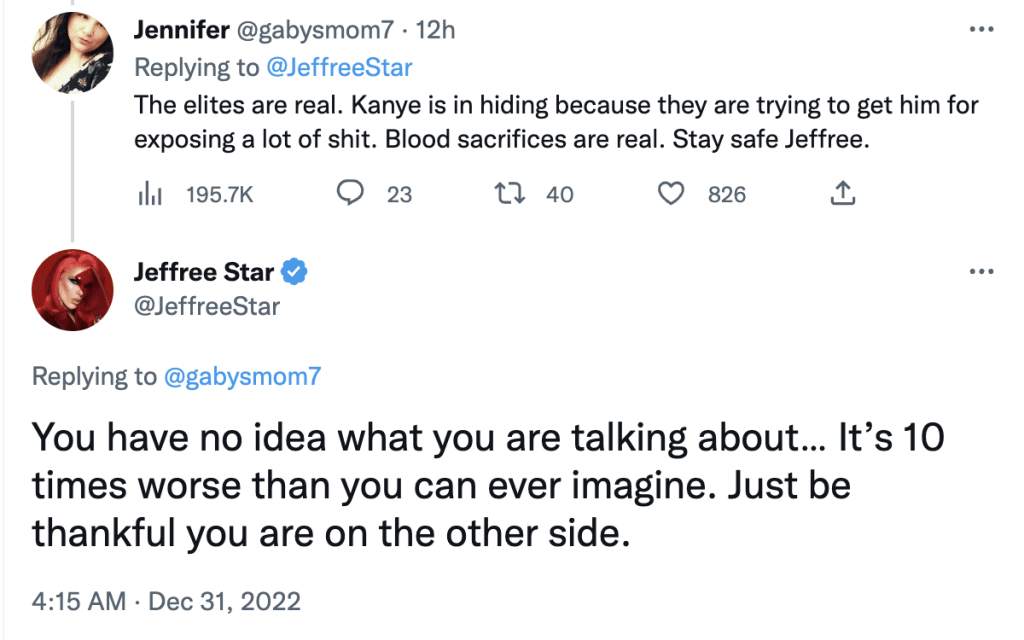 While Jeffree's tweets from today were ambiguous about what he planned to do in 2020, there is no doubt that it was a tumultuous year for the creator.
In May 2020, Jeffree copped backlash for his involvement with musician Dahvie Vanity— who has been accused of sexual abuse towards underaged girls, some as young as 12 years old. Jeffree was reportedly an eye-witness to many of Dahvie's encounters and assaults. In an attempt to clear his name, Jeffree sat down for an interview with journalist Chris Hansen via YouTube live, but despite his best efforts, Jeffree's defense was not well received.
Amongst mounting criticism of the star, Jeffree took to Twitter one month later to address some of the photos and screenshots that began circulating from his past. Many were calling for his "cancellation" after old photos resurfaced of Jeffree causing self-harm (which he posted himself) and posing with a confederate flag. There was also a screenshot circulating from a social media profile page of Jeffree's called Lipstick Nazi— which has led many to believe he had a beauty brand prior to Jeffree Star Cosmetics with this name.
Jeffree addressed the controversy in a lengthy Twitter note, claiming he was young and stupid.
Weeks later, Tati Westbrook broke her silence on the BYE SISTER scandal, accusing Jeffree of manipulating her into ruining James Charles' career. She alleged that Jeffree and Shane Dawson gaslit her into believing James was a predator and claimed Jeffree has an abundance of "dirt" on influencers and brand owners in the beauty industry which he uses to blackmail people into doing what he wants. Jeffree later apologised to James and said he got caught up in the drama.
In October 2020, Insider published an exposé on the star, which brought about allegations that he had physically and sexually assaulted men, including drugging and forcing oral sex on a teen, using a short-range stun gun to intimidate people around him, and frequently groping men at his music performances.
The outlet published another article in December 2020 revealing that Jeffree had paid $45K of hush money to an alleged sexual assault victim prior to the first exposé being published.
Despite everything that went down for Jeffree in 2020, many are chalking his recent tweets up to conspiratorial paranoia, or even a possible PR move to generate headlines (which clearly worked!).