@jamescharles / @arakkisuperstar
In a plot twist that no one saw coming, internet users are defending James Charles against accusations that he intentionally flirted with a man over DM despite knowing that he was straight.
Earlier this week, TikTok user @stoughtun AKA "David" shared a series of alleged DMs and video messages from the beauty YouTuber.
According to TMZ commentator Tommy Gabriel, who collated David's accusations in a Twitter thread before he removed some of his videos, James messaged David on TikTok asking for an "age check". Presumably, after receiving verification that David was over 18, they moved their messages to Instagram vanish mode.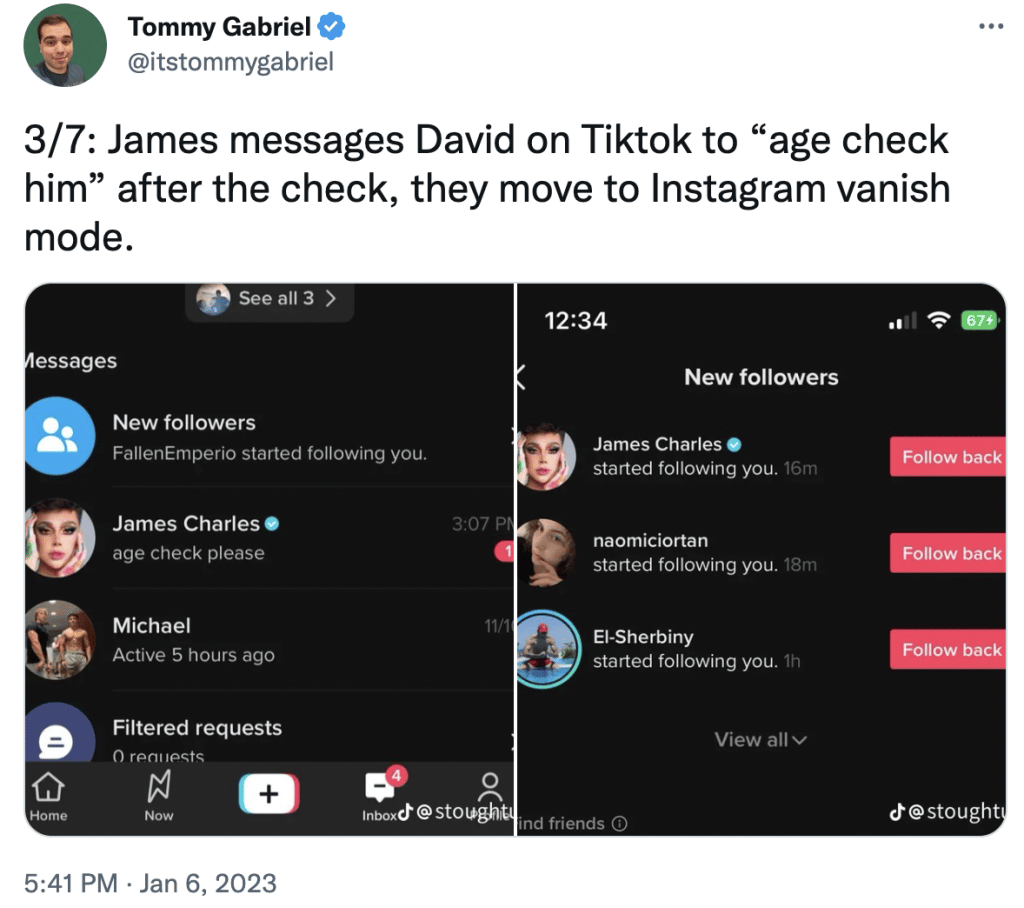 In alleged messages to David, James revealed the "requirements" and "benefits" of being his boyfriend, calling it a "really lucrative role".
David proceeded to post video messages that James allegedly sent directly to him, one in which James apparently tried to convince David to FaceTime him and another in which James seemed to admit that he knew David was straight.
"So obviously being that you are straight, I would assume that you don't know a lot about like, the gay community," James said to the camera.
The creator also appeared to joke about being jealous of a girl that David was "talking to" and allegedly told David that his "body count is like 4".
In another TikTok video, David claimed that James "sent me 2 illicit photos after I kept declining to send a seflie".
Despite James' alleged history of targeting straight men and sending inappropriate messages to minors, fans and critics alike have come to the creator's defense.
In a quote-tweet of Tommy Gabriel's thread, LGBTQ+ activist and creator Matt Bernstein said that the messages David exposed show "two adults flirting with each other".
"James Charles is by no means a perfect individual, but everything in this thread shows two adults flirting with each other," he wrote. "The desperate reach to say james is "making straight men uncomfortable" is just regurgitating anti-gay stereotypes".
Some have suggested that David entertained James and saved his messages so he could later expose him for clout, knowing it would blow up given James' past.
"You know good and goddamn well these straight men are leading him on so they can get a hit tweet / viral post bffr" tweeted user @kirkxxs.
Others note that David only showed James' side of their conversation and failed to provide evidence that he told James he was uncomfortable with his messages.
Adding fuel to the fire, a girl claiming to be David's sister posted a TikTok defending James.
In her video, @barbie.logic said her brother posted the videos for views and that James "did nothing wrong in this situation" as David apparently led James on for weeks despite telling him he was straight.
She has since removed the video from TikTok and Centennial Beauty was unable to fact-check if she really is David's sister.
Though many seem to agree that David exposed James for clout, some have noted that James repeatedly trying to hook up with or date his fans is arguably more problematic.
In 2021, James issued an apology on YouTube after he was caught messaging two underage fans, claiming they both told him they were 18 at the time.
"It is ridiculously embarrassing to admit this, but I think I have to," he said in the video. "I am desperate."
The influencer opened up about how he became "desperate" for love and his mentality around dating, revealing he believed he could use his Instagram explore page as a dating app.
James then addressed the power imbalance, claiming he now understood the unfair dynamic he was creating by seeking relationships with fans.
While James has since deleted the video from his channel, this situation with David doesn't instill a lot of faith that he's steering clear of fans.
James has not publicly addressed David's accusations at the time of writing.