Emily Vernem / Ruchi Page
Faces of Australia is a column highlighting BIPOC creatives to bring you their stories. Creators are asked to collaborate on a makeup look that empowers, holds meaning, or describes their experience as it relates to Australian beauty standards and the Australian beauty industry. Faces of Australia is written and produced by Ruchi Page, with a mission to show the beauty industry how accessible BIPOC talent is across this diverse nation.
Episode 2: Emily Vernem
The brief? Pink all over. Episode 2 of Faces of Australia is serving a full course meal of pink. On that note, I am honoured to bring you Emily Vernem.
After diving into Emily's fabulous world, it was clear that a vivid colour needed to play a primary role in our partnership. We painted our faces with 50 shades of fuchsia; from eyes to cheeks to lips. The Undone podcast co-host and I chatted about the unhinged side of the beauty industry and it was kind of a big deal. Let me explain…
Firstly, I wanted to explore if 'bold and bright' was always Emily's preferred makeup style. I was told that her interest in vivid colours peaked after she began looking for lipsticks pigmented enough to coat her dimensional, natural lip colour. However, the hunt for pigmented lip products proved difficult, so Emily turned to colourful liners as a means of self-expression. Rather than the classic black kohl pencil, Emily developed an affinity for bright eye products.
A budding media queen at only 24-years-old, Emily's work is rooted in social justice— often tackling conversations around representation and diversity on her podcast and through her writing. So I had to get her two cents on blackfishing. What on earth is blackfishing? In full transparency, I was unaware of this term until recent accusations against influencers and public figures emerged. I also questioned if there were any personal emotions tied to this issue.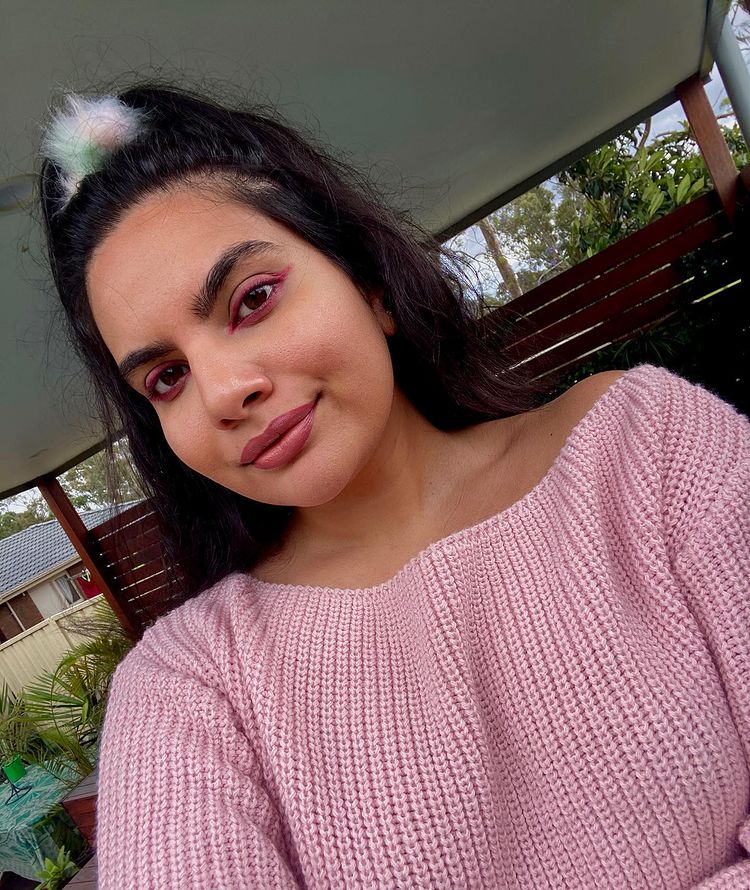 Emily explained that blackfishing is when white people alter their physical appearance (usually through fake tanning, hairstyles, and accessorising) to appear as a different ethnicity. "We are seeing historically problematic industries, like the modeling world begin to make room for people of colour," Emily said. However, blackfishing allows white people to profit off cultural appropriation, as "these positions end up being filled by white people who 'look different.'"
Emily went on to say that this doesn't just affect BIPOC in the workplace, it can also deeply impact our mental health. Our conversation made its way to the unfortunate, yet demanding truth of the beauty industry…
"For years we have been told that beauty equals white."
While Emily celebrates the newly created space for dark skin, big lips and thick brows in the beauty industry, she also notes the flipside of these "trends"— namely that white people now covet these features without recognising the emotional and physical pain that living with these traits has caused people of colour for decades.
"I hated my skin and the way I looked for years," Emily told me of how blackfishing has personally impacted her. "It wasn't until I was 17-years-old did people start referring to me as 'exotic' or 'pretty.'" Emily questioned the sudden influx of compliments— why now? When she realised diversity was now a "trend," Emily recalled she felt pressure to feel content with— or grateful for— her appearance after years of resentment.
We shared the same disconnect for our skin; I couldn't help but relate to feeling a sense of embarrassment about my deeper complexion growing up. Internal colourism is real.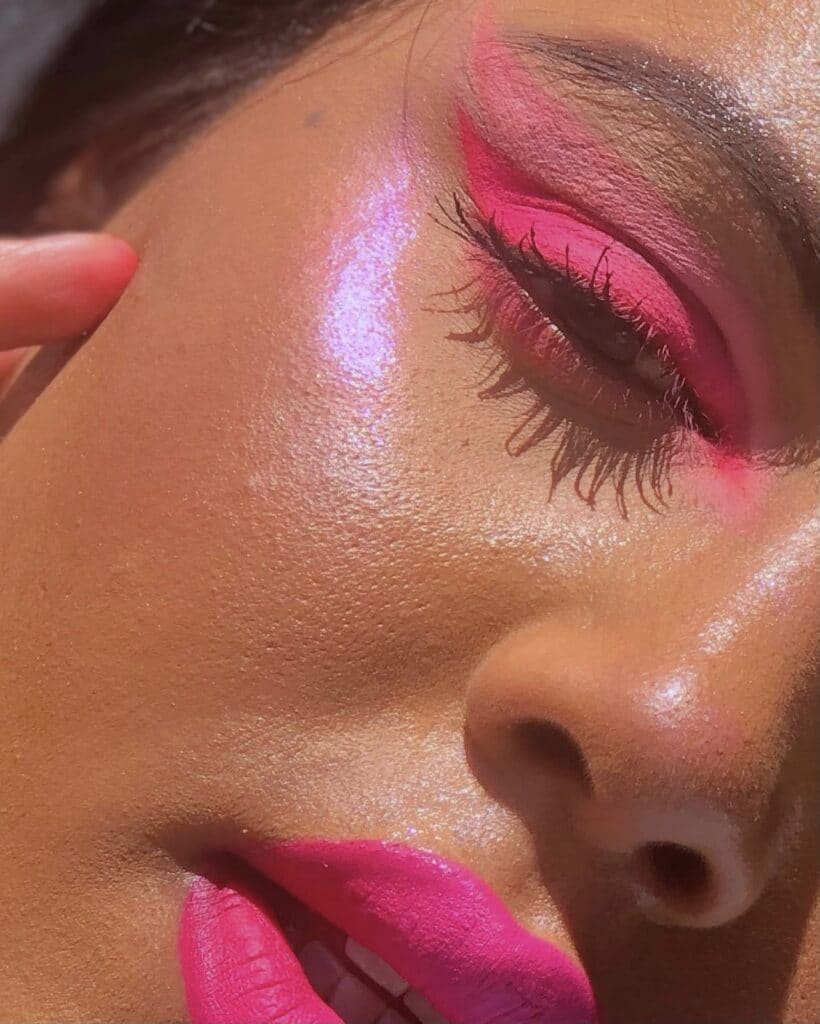 I then dove into Emily's sense of identity and self-acceptance growing up in Australia. Sadly, Emily revealed that she was sometimes embarrassed of her Indian heritage— a sentiment I could also relate to. "I would always cringe when people would mimic the accent and comment on the foods and 'smells'," she said. Though Emily was eventually able to embrace her culture with pride, it was no easy feat. From not fitting into the 'white Australian' box to being labelled 'too white' to fit in with other Indian children, Emily claims her identity and sense of belonging were severely challenged.
It was this journey of self-love that inspired Emily to get into media in the first place, in the hopes of being a positive influence on young people born and raised in Western societies with ethnic backgrounds.
To conclude, Emily shared her first memories of the beauty industry. At first, makeup was not on her radar; it was accepted and assumed that the beauty industry doesn't cater for others outside the beige-to-tan range.
Her confusion around the beauty industry deepened when she recalled being "annoyingly happy" upon finding skin-lightening products in India. She found a sense of comfort knowing she wasn't alone in desiring a fairer complexion. These temporary emotions became a transformational light bulb moment— Emily knew going forward that the beauty industry was profiting off insecurities and 'flaws,' and began an intentional journey to find brands that catered for everyone. And with growth, power, and pride; Emily's views on the current beauty industry are noted.
"Now, I absolutely love makeup and skincare. I think the notion of 'covering up' has completely transformed. I'm seeing more and more brands like Fenty Beauty and Live Tinted creating products with POC in mind and it really makes a difference."
– Emily Vernem, podcast host and media personality
PRODUCTS USED