@tanamongeau
https://www.instagram.com/p/ChVOQrGpvIY/?utm_source=ig_web_copy_link
https://www.instagram.com/p/CV6YFEFLSy5/?utm_source=ig_embed&ig_rid=1f6d79d8-1594-43c7-bc0c-e56b372d2cf5
https://www.instagram.com/p/ChScMYUIy4h/
In the growing list of updates that weren't on our bingo card for 2022, Tana Mongeau and Bella Thorne may be back together— or so it seems based on recent Instagram posts from the pair, while on a trip to Ibiza.
Known for their tumultuous dating history, Tana and Bella dated between 2017 and 2019 before descending into an on again off again online feud (including the release of a diss track in 2020). By April 2021 however, Tana revealed as a guest on the podcast Locked In, hosted by Alex Warren, that she missed Bella, suggesting the two may be ready to rekindle their relationship at some point in the future…and that day may have come sooner than expected.
Initially, sharing an Instagram Reel of herself and Bella with the caption "u asked. we answered", Tana followed with a carousel of images featuring the pair living up a European summer in Ibiza, captioned "all i know to say is – if u know u know".
Leaning into the speculation, Bella replied in the comment section of the Instagram post: "Well can't really do a lot with those nails ;)"
What has caught the attention of fans however, is a screenshot of a text conversation posted within the carousel. The text reading "[Are you] in love [with your] ex again", to which Tana responded "totes", alongside a selfie of the pair.
Not the first time Bella and Tana have teased fans with a reunion that could have been something more, the former couple is known to lean into internet drama. Post their split in 2019, and aforementioned Twitter feuds and diss tracks, the high profile couple was spotted together in November 2021, Tana sharing pictures at the time on Instagram, with a caption reading "Surprise bitch, bet u thought u'd seen the last of us".
Rumours the pair may have been back together at the time were exacerbated by additional Instagram and TikTok content— but were quickly dismissed when Tana replied to a comment on a video of the pair, explaining "We're not dating, we're just cool & chillin."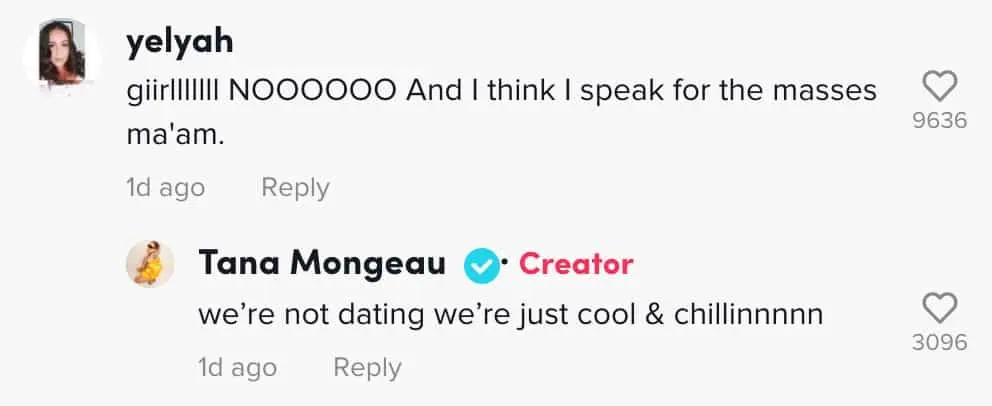 Shortly after Tana and Bella's viral reunion in November 2021, Bella went on to announce her engagement to Italian singer Benjamin Mascolo— however, the engagement was called off by June 2022.
Fast forward to August 2022, Tana and Bella are both reportedly single prior to their reunion in Ibiza. This, combined with comments such as Bella on Tana's post reading "Tana is sorry for all the shit she made up ❤️ so she says. Stay with us for more info 😂😂", is leading fans to speculate the pair may genuinely be back together.
At the time of publication, neither Tana or Bella have confirmed their relationship status. However, knowing the pair's penchant for stirring up and leaning into drama, we'll take this reunion with a grain of salt.