@jojosiwa
https://www.instagram.com/p/CcJ46BcFiGi/
https://www.instagram.com/p/CURFyfwFyUJ/
https://www.instagram.com/p/CWoR_ogLHDP/
https://www.instagram.com/p/CWUN3NpviF5/?igshid=YmMyMTA2M2Y=
https://www.instagram.com/p/CcDtTMqpH9w/
https://www.instagram.com/p/CZK6c_yL1_k/
https://www.instagram.com/p/COyGvnrHLIq/
https://www.instagram.com/p/CcMEvDHPifP/
Pop sensation and LGBTQ+ icon Jojo Siwa made a surprising confession yesterday that she was not invited to the Nickelodeon Kids' Choice Awards this year, despite being nominated for Favourite Social Music Star. Considered by many as the unofficial "face" of Nickelodeon, fans noticed Jojo's absence from the awards show last night and took to social media to ask the 'Boomerang' singer why she wasn't there.
Jojo responds
Jojo responded with a video on Instagram, sharing that she had simply not been invited.
"A lot of you have been asking me why I'm not at the Nickelodeon Kids' Choice Awards tonight and the answer is very simple – I wasn't invited. I'm not sure why, but I just didn't get an invite," she shared with her followers.
The children's performer seemed confused and disappointed, adding the caption, "I don't want anyone to think it was my choice not to go…. I simply didn't get an invite:(".
Fans and fellow stars rushed to Jojo's defence in the comments, with notable support coming from the dance community and the cast of Dancing With The Stars, which Jojo appeared on as a 'star' in the most recent season.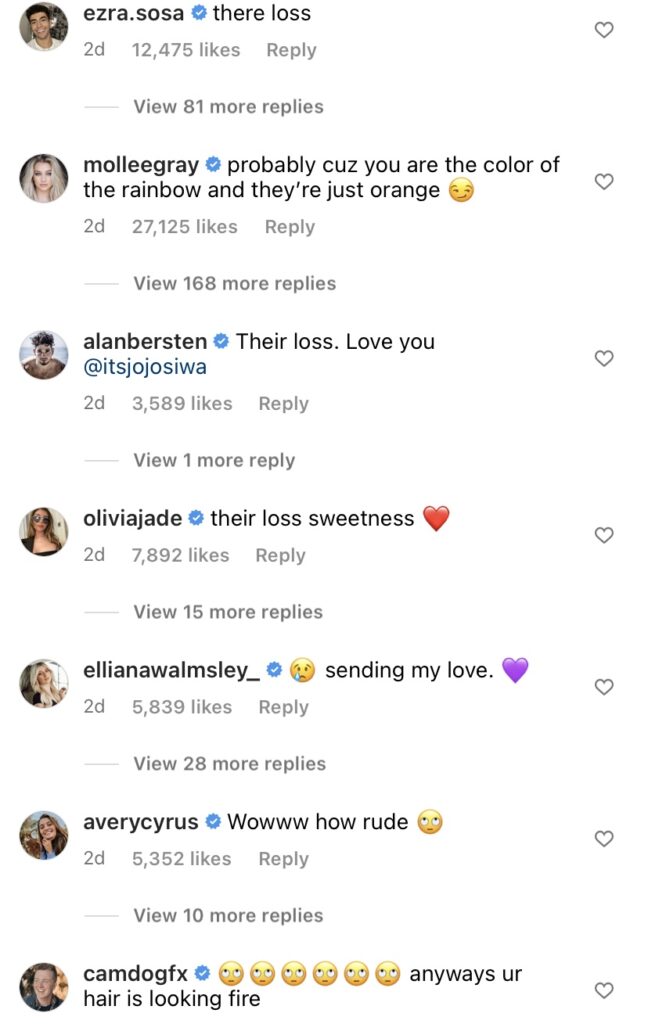 Other messages of support came from Snooki, Colleen Ballinger, and Rachel Zegler who was recently snubbed from the Oscars herself before fans demanded she be invited. 
Considering Jojo's epic rise to mainstream popularity since signing with Nickelodeon in 2017, fans immediately began to speculate that there was more to the story.
Changing public image?
Like many talented child performers or 'Disney actors', Jojo has been open with her transition away from being seen as a child star since turning 18 in May last year.
Jojo came out as a member of the LGBTQ+ community at the beginning of 2021, which was met with widespread support. It was during 2021 that Jojo also went through her first public relationship and breakup with Kylie Prew, which she was very open about.
From September to November last year, Jojo also competed in Season 30 of Dancing With The Stars, pairing up with pro dancer Jenna Johnson as the first same-sex dance partners to compete on the show. Jojo performed spectacularly, finishing second to NBA player Iman Schumpert. 
Trading her bows and sequins for a more mature look on the dance floor, Jojo described the experience as her "transition into womanhood", becoming more confident in her own skin.
"I've seen changes in my body and I'm liking what I'm seeing and confidence-wise I'm changing too and that's making me more ok in my own skin…Transitioning into womanhood is wild, it's wild, I've never shown this much of my body, I've never worn anything like this before," she told Access.
Days before the Kids' Choice Awards, Jojo also debuted a Pink-esque pixie cut, signifying a new era from her high ponytail days.
With so many significant life events in the past year, fans speculated that Nickelodeon's snub was at best, a response to her changing public image, and at worst, an act of homophobia.
Bad Blood with Nickelodeon?
Another fan theory explaining the cold shoulder from the kids' channel has to do with Jojo's existing relationship with Nickelodeon.
Last September, Jojo spoke out against the network for allegedly not allowing her to perform songs from her movie musical 'The J Team' on her D.R.E.A.M. tour. The movie was promoted on Paramount+, which is under the same media company as Nickelodeon.
In tweets that have since been deleted, Jojo said "I go out on tour in January. My movie musical was just released (with 6 new original songs)… Nickelodeon told me today that I'm not allowed to perform/add any of the songs from the film into my show".
"These are MY songs, MY voice, MY writing. Does this seem fair???" she added.
Following her tour, Jojo also began to promote her new television show on a different network, Peacock. Along with her mother Jessalyn, Jojo appeared as host and choreographer of 'Siwas Dance Pop Revolution', a reality competition show looking to build a children's pop group full of triple threats.
Sharing proudly on Instagram, Jojo said "We found our perfect home for our new project!!🥳 so happy to be a part of the Peacock TV family!!! 2021 🎀" leaving fans wondering why the show was not produced with Nickelodeon.
While we may never know the reason for the missing invite, true to form, Jojo returned to Instagram today like a 'boomerang', showing that she hasn't let the snub get her down.