https://www.instagram.com/p/CdE1kJgKQ8d/
In today's edition of internet rumours, TikTok users are convinced they've discovered the 2023 Met Gala theme.
The rumour started where all reliable rumours start — a disgruntled intern.
Under the pseudonym "Depressed Gay Intern," an anonymous source claims that fashion's biggest night is headed to outer space this year, figuratively, at least.
Submitted to Instagram's gossip monger, DeuxMoi, the source wrote, "I work at the HQ for one of the designers who misunderstood the [2022] MET Gala assignment and we just got scolded!!!!!"
This really doesn't narrow the designer down, because it could be argued that no one understood the assignment at the 2022 Met.
"For the first time since '83 designers will now need their outfits pre-approved, regardless of who the clothes hanger walking the red carpet will be," they continued. "Side note: Next year's theme is rumoured to be space-themed and we might have to genuinely dress Elon fucking Musk. I'm not even joking."
"I have to walk into this office every day and see a sketch of him on the pinboard."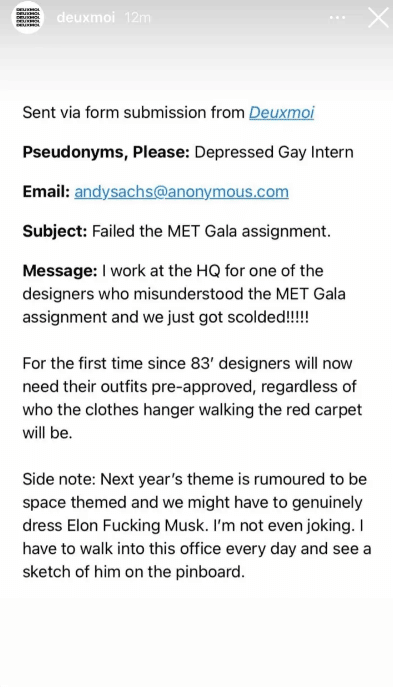 Over the past few days, emerging designers have taken to TikTok to share their take on the supposed theme. Videos of original sketches of 'out of this world' gowns have been circulating, whilst others shared cosmic couture looks from the runways of Dior and Schiaparelli.
The rumour has also inevitably sparked plenty of memes (it has now become all of our twisted dreams to see Anna Wintour in a pair of galaxy leggings circa 2010). 
Some TikTok users have taken to the comment sections of these videos to share their opinions on the theme. One user commented, "if Rihanna doesn't show up with a whole solar system attached to her I don't want it."
Another user pointed out, "Watch how 99% of men would completely ignore the theme and wear a suit n tie instead." This would be weirdly on-brand given that happens to be the colour of outer space.
This is not the first time that the Met Gala has spawned some rogue rumours. Prior to the 2021 event, an alleged leaked guest list began circulating when Instagram account @_metgala2021, which is not affiliated with The Anna Wintour Costume Center nor the New York City Metropolitan Museum of Art's Costume Institute, shared posts as fact.
The account proceeded to also post a fake seating chart, which saw Charli D'Amelio (who was not even old enough to attend) seated between Kylie Jenner and The Weeknd.
While none of that was true, only time will tell if we'll be seeing Elon Musk walking the red carpet in a pair of galaxy leggings on the first Monday of May 2023.