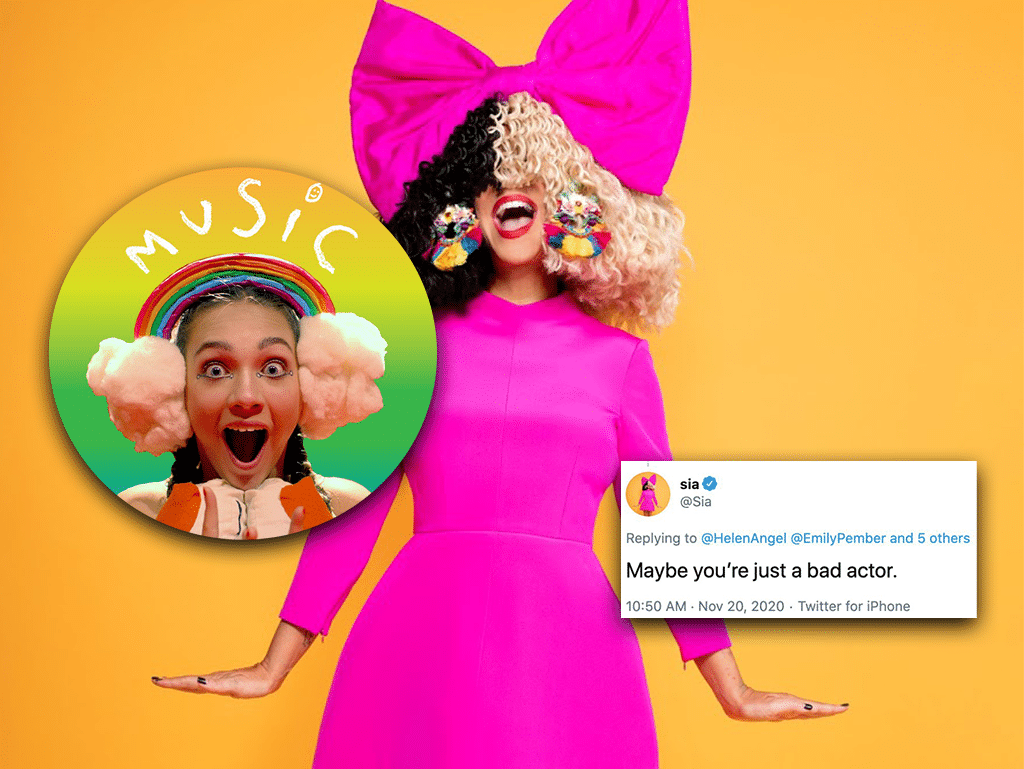 https://twitter.com/Sia/status/1329411673350942723
https://twitter.com/oceansofnovels/status/1329747728767868928
https://twitter.com/RadicalisedHomo/status/1329783002340188160
https://twitter.com/Sia/status/1329721477025947648
https://twitter.com/Sia/status/1329736604819316737
https://twitter.com/Sia/status/1329723656768024577
Updated January 6, 2020
Sia is facing backlash after the trailer debut of her new film, 'Music.'
Written and directed by the Cheap Thrills singer, 'Music' follows the story of a Zu, portrayed by Kate Hudson, a newly sober drug dealer who gains custody of Music, her half-sister and a non-verbal autistic teen.
Music is portrayed by Dance Moms alum Maddie Ziegler.
Upon the trailer's release, fans immediately criticised Sia for casting Maddie in the role as she's not autistic in real life.
"Did you do any research or consult the community at all? It's very condescending to say it would be cruel to consult a disabled actor," one user tweeted to which Sia responded that she "spent three fucking years researching" autism and the community— a statement many believe is untrue given the film's association with the controversial group Autism Speaks.
Sia also claims she originally hired an autistic actor for the role but it became too stressful for the girl. Users have pushed back, insisting she should have looked for another autistic actor as a replacement.
"Several autistic actors, myself included, responded to these tweets. We all said we could have acted in it on short notice. These excuses are just that – excuses," one person replied. "The fact of the matter is zero effort was made to include anyone who is actually autistic."
Sia clapped back at the criticism, writing, "Maybe you're just a bad actor."
Despite the backlash, Sia says she hired "thirteen neuroatypical people, three trans folk, and not as fucking prostitutes or drug addicts but as doctors, nurses and singers" for the film.
However, many are equally outraged by Maddie's portrayal of Music. "It's pretty offensive the way you've chosen to portray this character. People with disabilities are not broken and don't need fixing," actress Bronagh Waugh tweeted. Sia replied that casting someone "at her level of functioning was cruel, not kind" and thus made the decision to cast a non-autistic actor.
Regardless of intent, activists across the platform are sharing information on autistic representation in the workplace to help fans better understand Sia's misstep, like Margaux Joffe who shared that 85% of the autistic community is unemployed or underemployed.
Weeks later, the director admitted that casting Maddie was "ableism" on Australian talk show The Project. "I realised it wasn't ableism — I mean, it is ableism, I guess, as well — but it's actually nepotism, because I can't do a project without her," she said. "I don't want to."
"I wouldn't make art if it didn't include her," she continued.
On Maddie's concerns over playing an autistic character, Sia said the 18-year-old didn't want anyone to think she was making fun of them. "And I bald-facedly said, 'I won't let that happen.'"