Celebrity golden couple Shawn Mendes and Camila Cabello have called it quits.
Sparking breakup rumours earlier in the week, Camila was allegedly heard on a flight from Miami to Los Angeles asking a friend for advice about breakups. Reported by celebrity gossip account @deuxmoi, an anonymous tip read "My fiancé is on a plane from MIA to LAX and sees Camila Cabello is sitting in business class with another girl, scrolling the movies and asked the friend, 'What would you watch if you just went through a break up?"
Rumours that were today confirmed when both Shawn and Camilla posted Instagram stories, explaining they have decided to "end [their] romantic relationship." Their stories, which share the same message continue "our love for one another as humans is stronger than ever. We started our relationship as best friends and will continue to be best friends. We so appreciate your support from the beginning and moving forward. Camila and Shawn."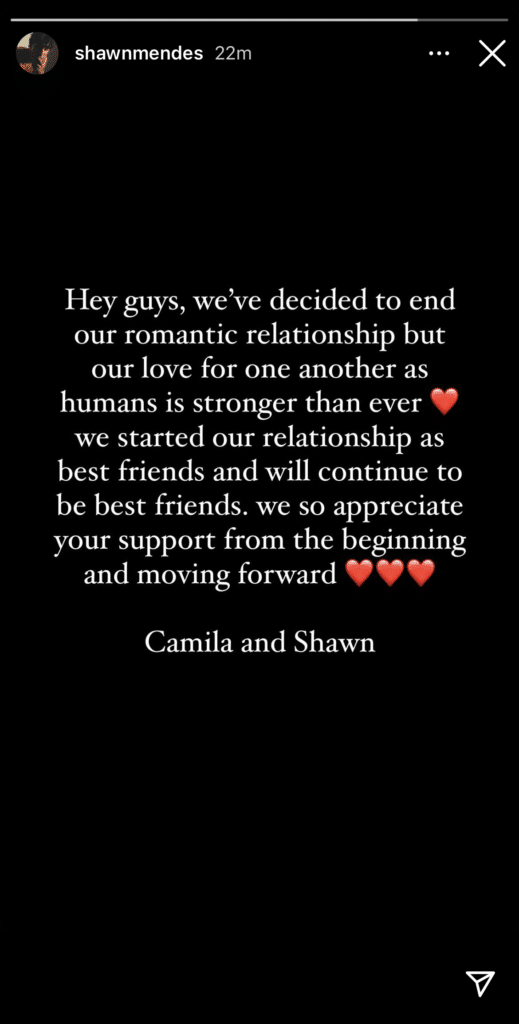 The pair, known for their PDA, met as opening acts for Austin Mahone's tour in 2014, before collaborating on a number of hit songs including I Know What You Did Last Summer in 2015, a cover a Ed Sheeran's Kiss Me in 2017 and most famously, Señorita in June 2019.