https://www.instagram.com/p/CBOEImqH6Ug/
https://www.instagram.com/p/CBOV8e8nQ5f/
https://www.instagram.com/p/CBRXmNsHGGa/
https://www.instagram.com/p/CBRd4NKHWiU/
https://www.instagram.com/p/B9kYyVRnJSM/?utm_source=ig_embed
https://www.instagram.com/p/CBOgijzn8bp/
Ready for the latest messy TikTok drama?
On Tuesday, Clubhouse's Isaak Presley and Sebastian Topete released a video titled "SMASH OR PASS" in which the duo rated female viral stars, including Kenzie Ziegler and Addison Rae.
The now-deleted video immediately copped backlash for spreading a misogynistic message to the Clubhouse's young audience.
"Boys are so disrespectful," Kenzie tweeted after the video was released. "I just can't believe how guys talk about girls on the internet."
The fierce backlash from both fans and fellow creators alike prompted the boys to remove the video and issue an apology.
"I truly apologize to everyone & my friends about the video," Sebastian wrote in an Instagram comment. "I understand it was very disrespectful and that isn't me. Again I'm very sorry."
Isaak posted an apology to his IG story, explaining that he didn't understand the gravity of the situation at first. "The whole smash or pass trend is completely misogynistic and undermining to girls and it shouldn't have taken these issues for me to realize that," he wrote. "I respect women to the fullest extent and support women empowerment so with that, I should have been more mature and realised how wrong it was. I feel awfully and once again, so sorry to anyone I offended, and so sorry to any of the girls in the video I disrespected."
"Things will change, and I'll be better."
Despite the apologies, Sway House's Bryce Hall spoke out against the video in defense of his ex, Addison. Bryce has taken multiple steps to let the Clubhouse stars know where he stands— including unfollowing both creators and calling their apologies and their content "trash."
Bryce then took to Instagram live to threaten Sebastian, saying, "Stay in your lane buddy before I walk over to the Clubhouse and 'smash or pass' some fucking sense into you," he said. "How old is he? Next YouTube boxing match! Nah I'm kidding, that would not get any views."

Sebastian fired back, tweeting that Bryce allegedly showed up at the Clubhouse with cameras to "personally degrade" and "fight" him. "You took it too far over a video," he wrote. "Let it go bud." The tweet has since been deleted.
Bryce admitted to showing up to the Clubhouse with cameras, but claimed it was not to fight Sebastian, but instead to expose him for being totally different IRL from his internet persona. "This man rly thought I pulled up to his house to fight him," Bryce tweeted. "That's not fair to the kid, I just wanted to get the message out to everyone who talks shit behind a screen that they act COMPLETELY different in person."
In an attempt to defend himself, Sebastian then released text messages between himself and Addison to prove that the TikTok star was okay with the derogatory nature of the video. "Idk why this man's even pressed when even Addison was fine with it," Sebastian tweeted. "I just don't understand when he started talking shit first but whatever."
The screenshots show Sebastian apologising for the video, writing, "I'm sorry if u took that the wrong way it wasn't my intention." Addison replied saying, "I didn't take it the wrong way at all u know ilysm." She also told Sebastian that what they said about her in the video was "nice."
However, it seems any water under the bridge has quickly turned into bad blood between Sebastian and Addison.
Shortly after releasing those text messages, Addison commented on Instagram saying that Sebastian had betrayed her trust by putting their private text messages on blast without her consent. She also explained that she told Sebastian she wasn't upset about the video because she hates having drama.
"First, I feel like this is private.. so I'm not sure why my text messages are being put out on the internet," she wrote. "Second, I hate being involved in drama so of course I wanted to make sure Sseb knew I wasn't mad at anyone. I feel SO uncomfortable addressing this because this is SO private but I need to because clearly it's not stopping. I hate having bad blood with anyone. But I don't think anyone should EVER post private conversations without consent of the other person."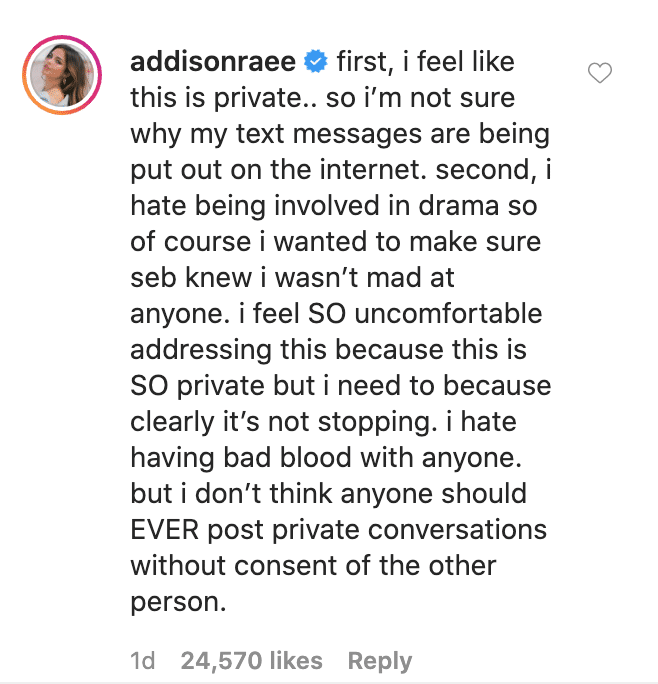 This is not the first time Addison's been the subject of slut-shaming by male TikTok stars. Earlier this year, the 19-year-old was accused of being a "tease" by Bryce and ex-Sway member Josh Richards during an Instagram live. The boys made a crude joke about Hype House's Tony Lopez trying to get with Addison.
Addison was quick to defend herself then too, commenting on the clip saying, "Lol this is disrespectful & gross. I'm single."
Despite the derogatory comments made, it sounds like Kenzie Ziegler has also forgiven Isaak and Sebastian. The star took to Instagram live to let fans know that she thinks the video was gross and should have never been posted.
She then cleared up her intention for the live, writing "No hate towards Seb or Isaak. I'm not on anyone's side I was just saying videos like this are gross. No one hate on them whatsoever."
For more on the dangers of slut-shaming on the internet, listen to this week's episode of Renegade by Centennial Beauty.