@huddy / @chandonupdates
https://www.instagram.com/p/CglFOBVs-7u/
https://www.instagram.com/p/CgoxSjvOJ2E/
Landon Barker is not hiding how he feels about Chase "Huddy" Hudson's music.
The 18-year-old has taken to social media to respond to some shady lyrics about himself in Chase's new single, "All the Things I Hate About You."
The song, released on July 29th, seems to be about Chase's split from TikTok queen Charli D'Amelio, who is now dating Landon.
ICYMI, Charli and Chase dated on and off since 2020. While it was rumoured that they were back together earlier this year, Charli debuted her new relationship with Travis Barker's son, Landon, in June— officially putting an end to the Charli and Chase era.
News of Charli and Landon's relationship caused a stir amongst the TikTok community, as Chase and Landon were previously very close friends. This was amplified when Chase began teasing his new song in mid-July, posting lyrics to his stories that seemed targeted at Charli and Landon like, "Holding his hand in that dress from the night that you left."
At the time, the new couple jumped in on the drama, addressing Chase's lyrics. "If you can't treat her right I'll treat her right for you," Landon wrote on his stories on July 23rd, possibly hinting that Chase wasn't a great boyfriend to Charli when they dated.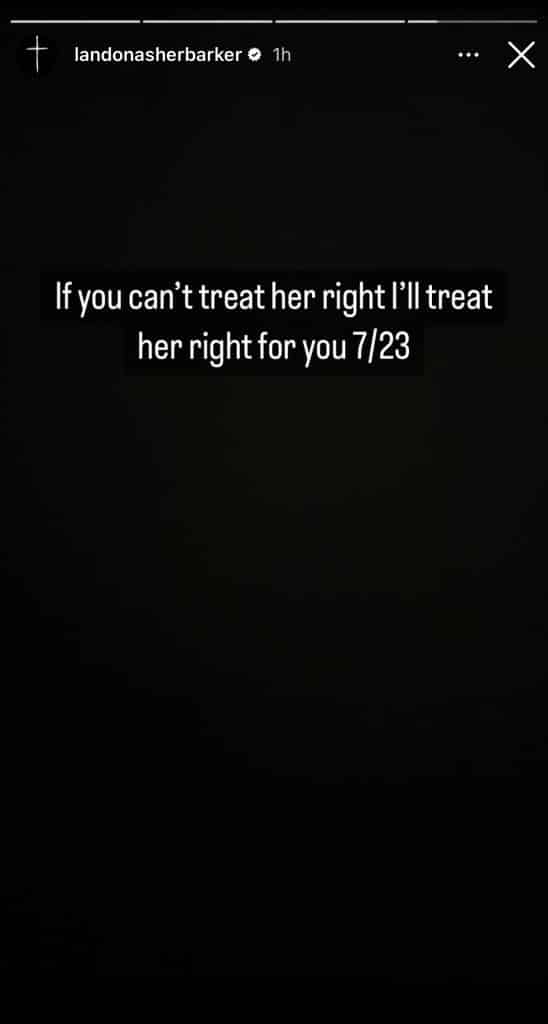 In the days following the song's release, Landon has further responded to Chase's pointed lyrics, addressing the second verse in which Chase calls Landon a "bumstar" instead of a rockstar and "knockoff" version of himself.
"You could've had a rockstar, But you chose up on a bumstar, Bootleg version of me, that's your loss, Had to find out through a photo, Hangin' on your arm like a knockoff," the lyrics go.
Taking to Instagram stories, Landon shared a photo of himself as a child playing the guitar. "I grew up on rock music and around the best pop punk bands in the world," he wrote. "Poser!"
Another controversial lyric comes from the chorus. "All my friends are fucked, we all got you in common," sings Chase.
While fans initially interpreted this to mean that several of Chase's friends had hooked up with Charli, Chase's mother, Tamora Hudson, seemed to confirm that was not the case when she liked a tweet by Twitter user @mendesofmyself.
"Where did everyone's basic reading comprehension skills go? 'All my friends are fucked, we got you in common' means they are fucked because they were friends with her too, therefore they all had that in common," the user posted.
Upon news that she liked the tweet, Landon called out Chase's mother on social media for getting involved in the drama.
"Tamora you gotta chill you pushin 70," Landon wrote.
Unfortunately, Chase's single has also led to some fall out for Charli within her peer group, as several influencers have unfollowed her on social media since "All the Things I Hate About You" dropped.
Nikita Dragun, Nick Austin, and Sissy Sheridan are amongst those who have unfollowed the 18-year-old.
Regardless of the drama, Charli and Landon seem happier than ever, while Chase's new music has received rave reviews from fans. We love to see everyone coming out on top.