@kimkardashian
It's the feud that never sleeps!
Over the weekend, 2016's most notorious feud between Taylor Swift and Kanye West resurfaced after a phone conversation between the two leaked in full.
In case you've somehow missed it, in 2016 Kanye West released his song Famous in which he sings a few lines about Taylor Swift— one being, "I made that bitch famous." Taylor made multiple public statements at the time saying the song was misogynistic and that Kanye was a bully for calling her a "bitch."
Kim Kardashian came to her husband's defense, releasing clips of a recorded phone call on her Snapchat which "proved" Kanye had played the song for Taylor and she gave him consent to release it. This led the internet to cancel Taylor Swift (remember the snake emojis??) and she was forced into hiding for over a year.
Though years have passed, the drama was reignited this weekend when the full phone conversation was released on YouTube. After listening to the phone call, it seemed Taylor Swift was right. Kanye never actually played her the line "I made that bitch famous," thus she never gave her consent.
Suddenly, the narrative was flipped again. Fans started attacking Kim Kardashian online for "manipulating" and "editing" the original Snapchat clips she posted to favour Kanye's side of the story, and #kanyewestisoverparty began trending on Twitter worldwide.
Taylor responded by liking Tumblr posts shading Kim and Kanye and today, she finally spoke up on her Instagram stories, writing, "Instead of answering those who are asking how I feel about the video footage that leaked, proving that I was telling the truth the whole time about *that call* (you know, the one that was illegally recorded that somebody edited and manipulated in order to frame me and put me, my family, and my fans through hell for 4 years…) SWIPE UP to see what really matters"
She finished by sharing donation links for WHO and Feeding America during the coronavirus crisis.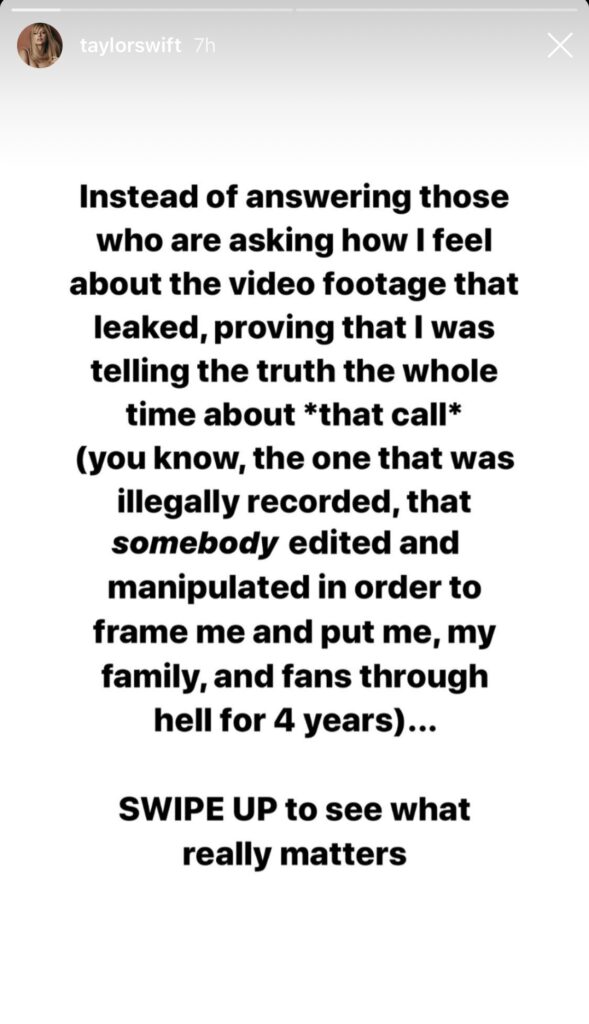 Now, after days of silence on the matter, Kim Kardashian has responded, coming to her husband's defense again.
In a series of posts shared both to her Twitter and Instagram stories, Kim explains her and Kanye's side of the story.
"Taylor Swift has chosen to reignite an old exchange – that at this point in time feels very self-serving given the suffering millions of real victims are facing right now," she started.
She goes on to say she feels embarrassed she even has to address this, but that Taylor keeps lying so she feels the need to.
Kim clarifies that she only released the footage on her Snapchat back in 2016 because Taylor lied through her publicist about Kanye calling to ask for permission.
She says the song wasn't fully written when he played her that version and the line with "bitch" was added later.
Kim then shares a snippet from the PR statement, which aligns with her argument.
She says she did not edit the footage and that as an artist, Kanye documents his album process via video, similar to a documentary.
She finishes by saying she will not speak on this again and that the world has much bigger problems to worry about that some petty feud between the three of them.
Despite the convincing argument, fans quickly poked holes in Kim's story— primarily the part where Kim says Taylor's PR rep claimed Kanye did not call for permission. One fan posted a screenshot from the original PR statement back in 2016, which reads "Kanye did not call for approval, but to ask Taylor to release his single 'Famous' on her Twitter account."
Fans point out that at first read, it does sound as though the statement claims Kanye never called for approval. However, read it again and the intent is clear— the statement does not infer that Taylor claims Kanye never called her. It infers that he did call her, but that Kanye's intention on the call was not to get her approval but to ask her to promote the song on Twitter.
And whether Kim and Kanye misunderstood the statement or not, the full leaked phone call proves that he never asked for permission for that specific line— which is the only line Taylor's team mentioned in the PR statement.
The statement is so carefully worded to suit Taylor's narrative that no matter which way you look at it, it seems Kim and Kanye really were in the wrong.
And that's on Taylor Swift's iron-clad PR team.