@addisonraee
https://www.instagram.com/p/CBYmApKH_NT/
https://www.instagram.com/p/CBYrF1jnb7m/
TikTok's most famous female stars have found themselves at the center of some new drama.
After months of flying under the radar post-breakup (we're still not over that btw), Charli D'Amelio is being dragged back into a media storm, this time involving friend Addison Rae.
According to various tea accounts, fans dug up some old comments that Addison 'liked' from back in November 2019. The comments, which were posted prior to the Hype House's inception, compare Addison and Charli, saying Charli doesn't "deserve the hype."
Fans noted that 'liking' a comment implies you agree, and thus many believe Addison was intentionally throwing shade at TikTok's most-followed creator.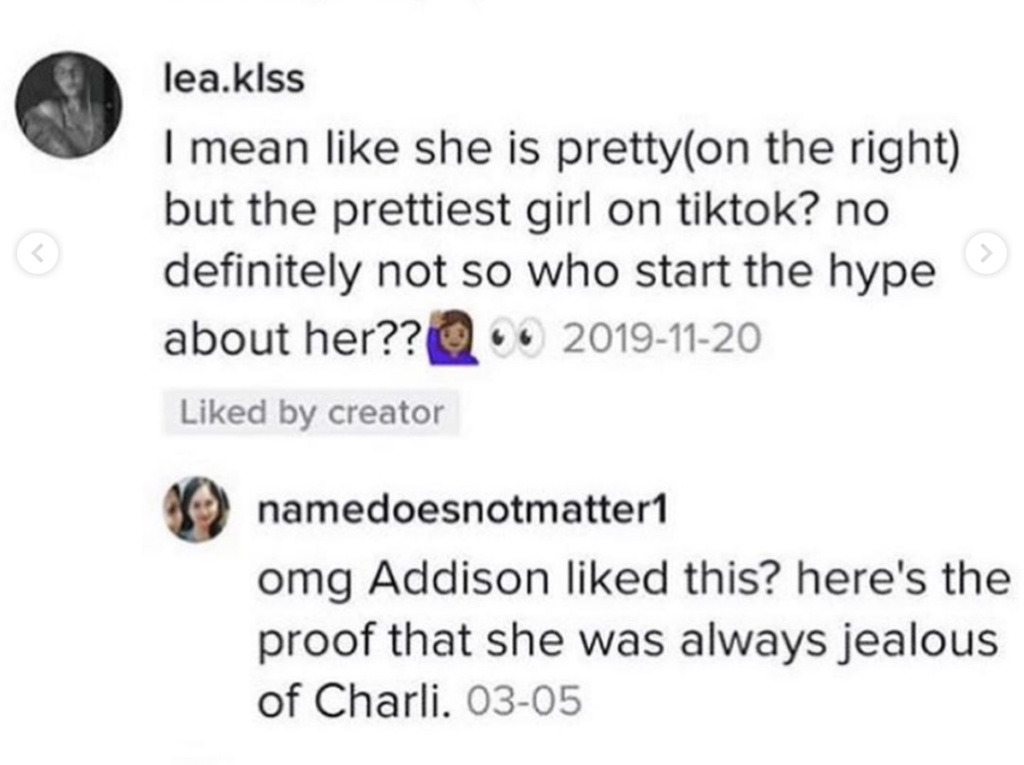 Addison was quick to respond to these allegations. The 19-year-old wrote a lengthy comment on Instagram admitting that she had indeed 'liked' these comments, however, it was well before she met Charli.
"Yes, I did like comments saying 'she deserves the hype' and 'why's Charli verified and you aren't' in November," she wrote. "I didn't know her and hadn't met her. THIS IS NO EXCUSE."
Addison then explained that she was in a very negative headspace at the time due to a difficult breakup. This led her to seek out validation from others because she was struggling to love herself.
"I had just gotten out of an extremely toxic and mentally abusive relationship that tore my heart to shreds. I was fully depressed and hated myself. I thought I was worthless without him after 5 years of being together. I searched for compliments and love from others because I couldn't love myself without him. It's SO gross and makes me really sad to think about to this day."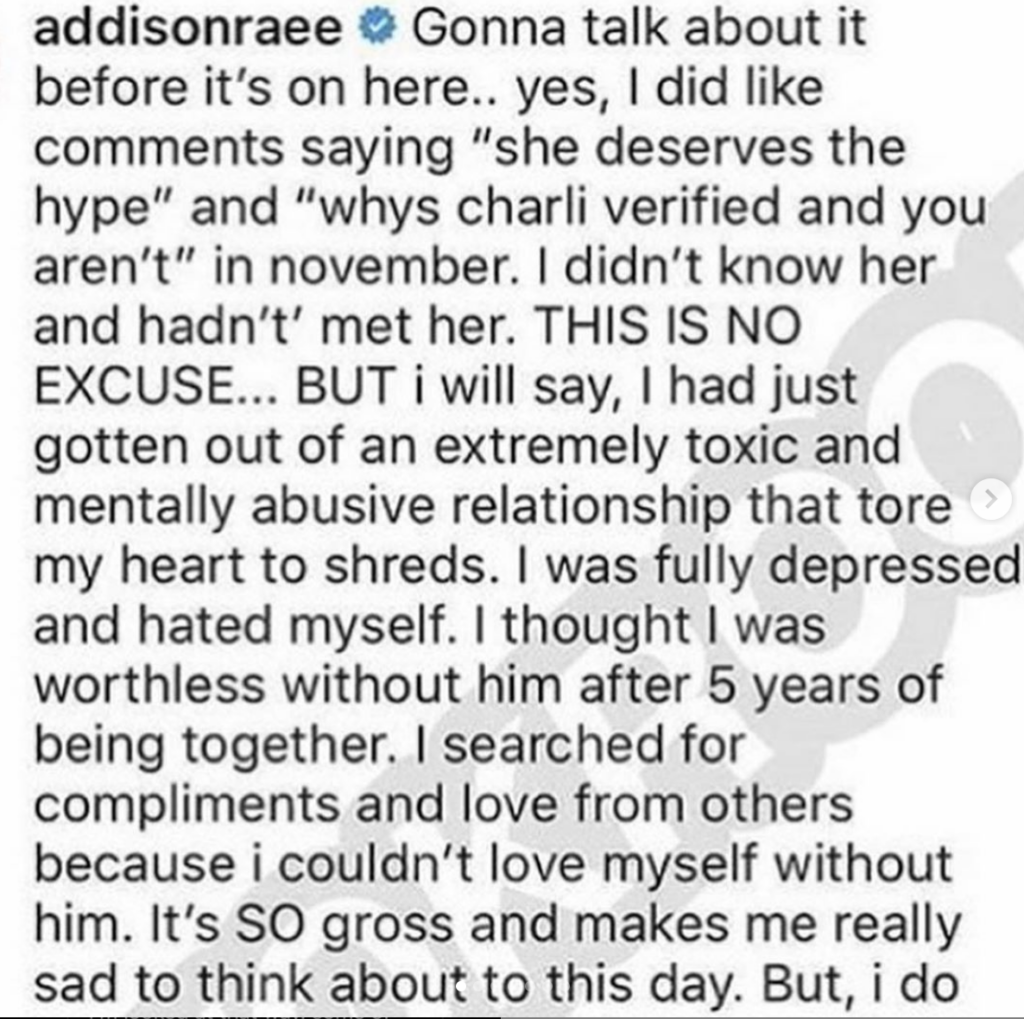 The Louisiana-native finished by saying that she loves and supports Charli now. "I've loved and supported Charli since the day I met her. I think Charli deserves everything she's done & I know she genuinely loves doing this and loves her supporters," she continued. "I already told her that she doesn't need to forgive me, but I will say I was insanely desperate for love at the point in my life and that was what I had…I will love & support her no matter what."
Though Charli's stayed relatively silent on the matter (aside from a cheeky tweet saying she's "just chillin") it seems sister Dixie D'Amelio has not been so quick to forgive.
Dixie and Addison quickly became BFFs after meeting in December as founding members of the Hype House. The besties have traveled to both NYC and the Bahamas together, and became so close that fans even coined the girls with their own couple name, 'Dixison.'
Since the news broke, Dixie has been tweeting up a storm in defense of her little sister.
"The jealousy OH MY GOD," she started. "Charli deserves better."
Some fans speculated these tweets were in response to leaked DMs that were allegedly between new Hype House member Darianka Sanchez and Charli's ex Chase Hudson. Darianka has also reportedly made nasty comments about Charli in the past.
Others, however, believe Dixie's most recent tweets indicate her comments were about choosing to defend her sister Charli over bestie Addison.
"Family first and that's that," she wrote. "Last thing I'm gonna say, I love my friends but my family comes first and I will not apologize for sticking up for my sister. I have love for everyone I am just very frustrated rn."
She ended with a message to fans, presumably asking them not to send Addison any hate. "OBVIOUSLY don't fight hate with hate."
Addison has since responded, tweeting and deleting, "If you hate someone because of something they did before they met you, you're looking for a reason to not like them."
Now, it looks like this all might be water under the bridge for the TikTok stars, as they've been active in each other's comment sections over the last day.
#DixisonForever