@itsjojosiwa
Updated January 23, 2020
Congratulations to JoJo Siwa who has come out!
The YouTube sensation hinted that she was coming out on Wednesday (January 20th) when she collaborated with a number of LGBTQIA+ TikTok stars to promote the new film Teen Beach Movie 3, including Kent Boyd, Mollee Gray, Garrett Clayton, and Jeka Jane. As part of the collaboration, Kent shared a TikTok of the crew dancing and singing around JoJo to Paramore's Ain't It Fun.
The popular TikTok sound clips the sound bite: "Ain't it fun, ain't it fun? Baby, now you're one of us!"
Kent included the hashtag #PrideHouseLA on the clip.
The comment section exploded with fans questioning if this was JoJo coming out.
Shortly after, the dancer-singer posted her own TikTok video lip-syncing to Lady Gaga's Born This Way — a notorious anthem for the LGTBQIA+ community. In the video, JoJo sports a jumper with rainbow-coloured hearts and a hair bow decorated in glitter rainbows.
The Dance Moms alum has received an overwhelming amount of support from fans, the LGBTQIA+ community, and fellow influencers alike.
YouTubers James Charles and Colleen Ballinger both commented on JoJo's recent TikTok showing their love for the 17-year-old, while many members of the community have expressed their acceptance of the star.
Mollee, who was part of the initial TikTok collaboration, also commented a rainbow emoji, writing, "Love you so dang much!"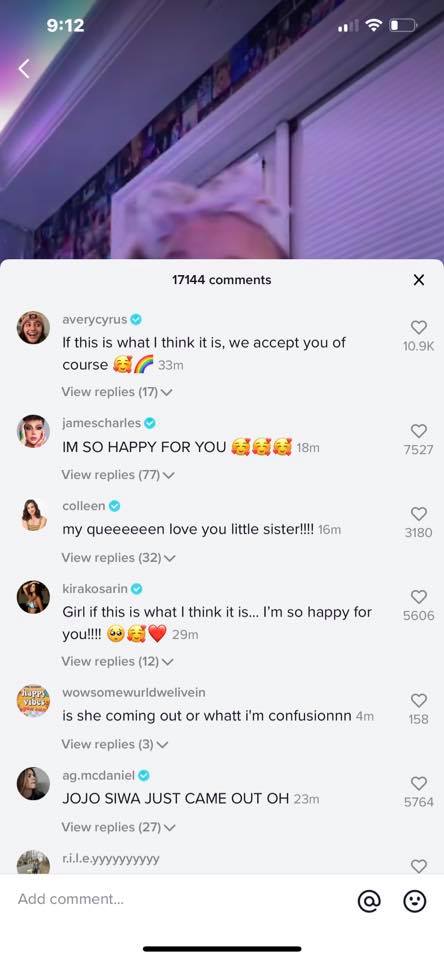 Now, JoJo has seemingly confirmed the news via Twitter, posting a photo of herself wearing a t-shirt that reads, 'BEST. GAY. COUSIN. EVER.'
"My cousin got me a new shirt," she tweeted as she poses with a smile on her face.
We're so happy that JoJo is living her truth!