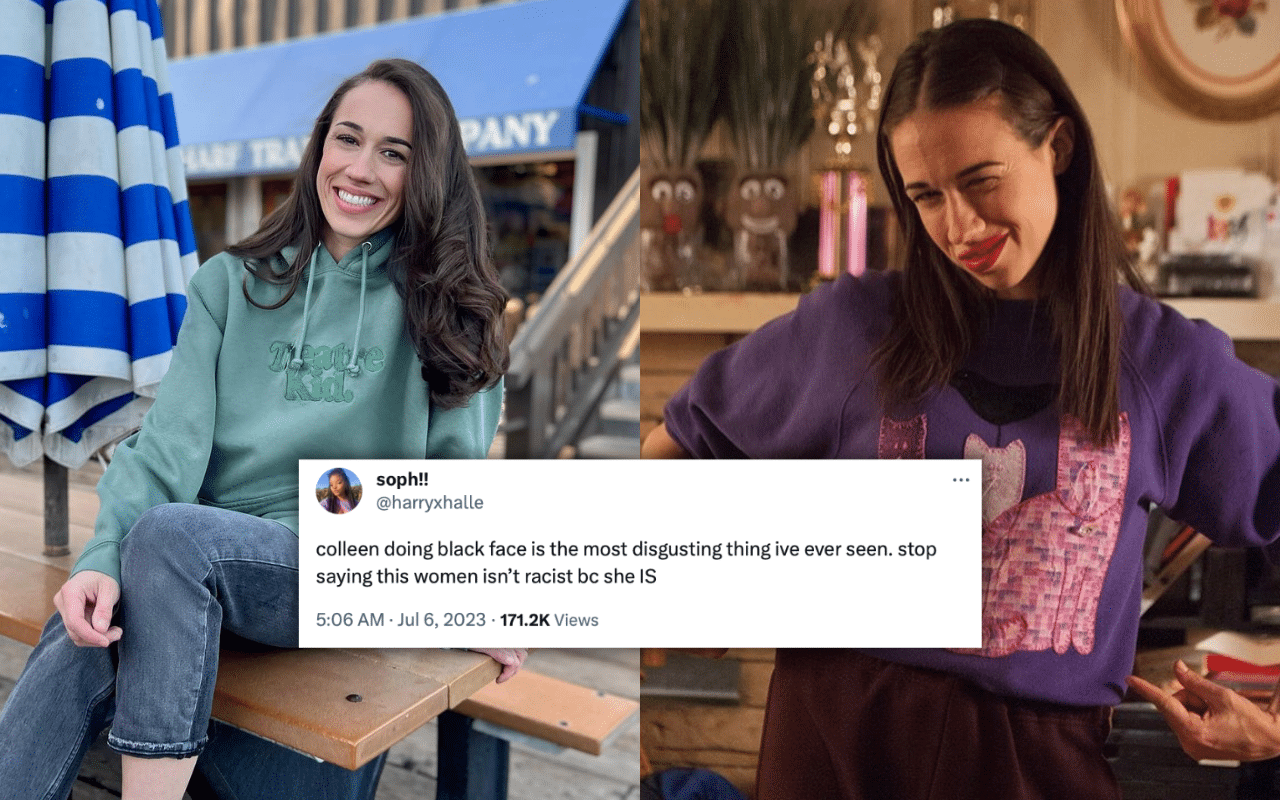 @colleenballinger / @hatersbackoff
Updated: July 6th, 2023
Just days after Trisha Paytas broke her silence on her now ex-podcast co-host, Colleen Ballinger faces a new wave of criticism. Alongside the manipulation and grooming allegations, a seemingly racist video of Colleen during a live Miranda Sings show has resurfaced.
Uploaded on February 23, 2018, the YouTube video shows Colleen performing a rendition of Beyoncé's 'Single Ladies' as Miranda Sings, where she appears to be in Blackface. The performance is available on the Miranda Sings YouTube channel and is currently unlisted— meaning the clip can only be accessed through a link.
The video started going viral after commentary creator Paige Christie brought attention to the clip on Twitter. Quoting a now-deleted Tweet, Paige writes, "I'm gonna need someone to explain the black on her face…" before posting the video.
Paige came across the clip after reading through two books by Miranda Sings, Selp Helf and My Diarrhe. The link to the performance was included as a QR code in My Diarrhe.
"This is where it's located in the book", Paige shares. "She performed this on the west end, I have reason to believe, due to the shows on for "naked boys singing" that the video was from around [the] Summer of 2010 & posted unlisted to accompany the book in 2018."
Paige's timeline seems accurate, as numerous fans shared videos of this performance on their personal YouTube pages around 13 years ago.
Colleen does not appear in Blackface in other videos, begging the question of why the influencer linked this specific performance in her book. Many internet users claim that this decision was intentional and a way to reaffirm her racist beliefs. 
Meanwhile, fans of Colleen have defended the influencer, claiming that she was performing in green face paint.
"Whilst this would have been a huge issue if she was actually doing blackface, she was not. This is from when she transitions from wicked to single ladies. She has green face paint on. It's the lighting," Twitter user @TeamColleenB123 shared.
On July 6th, legal representatives for Colleen denied the Blackface accusation, claiming it was green face paint that she was wearing while performing 'Single Ladies'.
Nevertheless, this is not the first time Colleen has been called out for racist behaviour.
Just last week, April Korto Quioh, a writers' assistant on Colleen's Netflix original Haters Back Off, published an exposé on Substack detailing her experience on the show. She claimed Colleen was egotistical, obsessed with adding references to incest into the script, and often made racist microaggressions.
"[In meetings] I had to document Colleen's insistence that we used limited POC background actors as the show took place in Washington and having them just randomly there would be 'distracting,'" April writes. "I recall overhearing her once brag that a creator was being 'cancelled' for saying the n-word (and if you think she went with 'n-word' instead of hitting that hard 'r,' then you haven't been paying attention) and that she would never be stupid enough to get caught doing something like that."
But even before these claims came to light, old racist clips of Colleen had already surfaced. These videos first gained attention back in 2020, around the time when Adam McIntyre first spoke out against the influencer's emotional manipulation of minors.
Colleen and her sister Rachel mocked Latinx women in one of these videos. The pair fed into harmful and degrading stereotypes— speaking with parodied accents and wearing dark makeup.
Colleen later apologised for her past racist and insensitive remarks in a video posted to her YouTube channel on May 13, 2020.
"A video resurfaced of my sister and I from 14 years ago. We are teenagers in this video and doing characters that are Latina. The characters are completely based on racial stereotypes. It is not funny and is completely hurtful. I am so ashamed and embarrassed," Colleen begins. "I was a sheltered teenager who was stupid, ignorant, and extremely culturally insensitive."
She goes on to thank her followers for teaching her to be "a better person" — a far cry from her recent video where she sings about the "Toxic Gossip Train" that is her cancellation.
"Any and all mistakes I ever make are definitely shown and blasted to thousands and sometimes millions of people all over the world. That's not an easy thing to deal with," Colleen says in her 2020 video. "However, I'm really grateful for that. Over the past 12 years, you guys have been really wonderful, helping me learn and grow to be a better person."
All that being said, with Colleen currently on a live tour as Miranda, the growing allegations of manipulation and racism cast a dark cloud over the remaining performances. As upcoming shows face getting cancelled, it is safe to say that the recent clips, which paint a troubling picture, will significantly impact the tour and the Miranda Sings character as a whole.