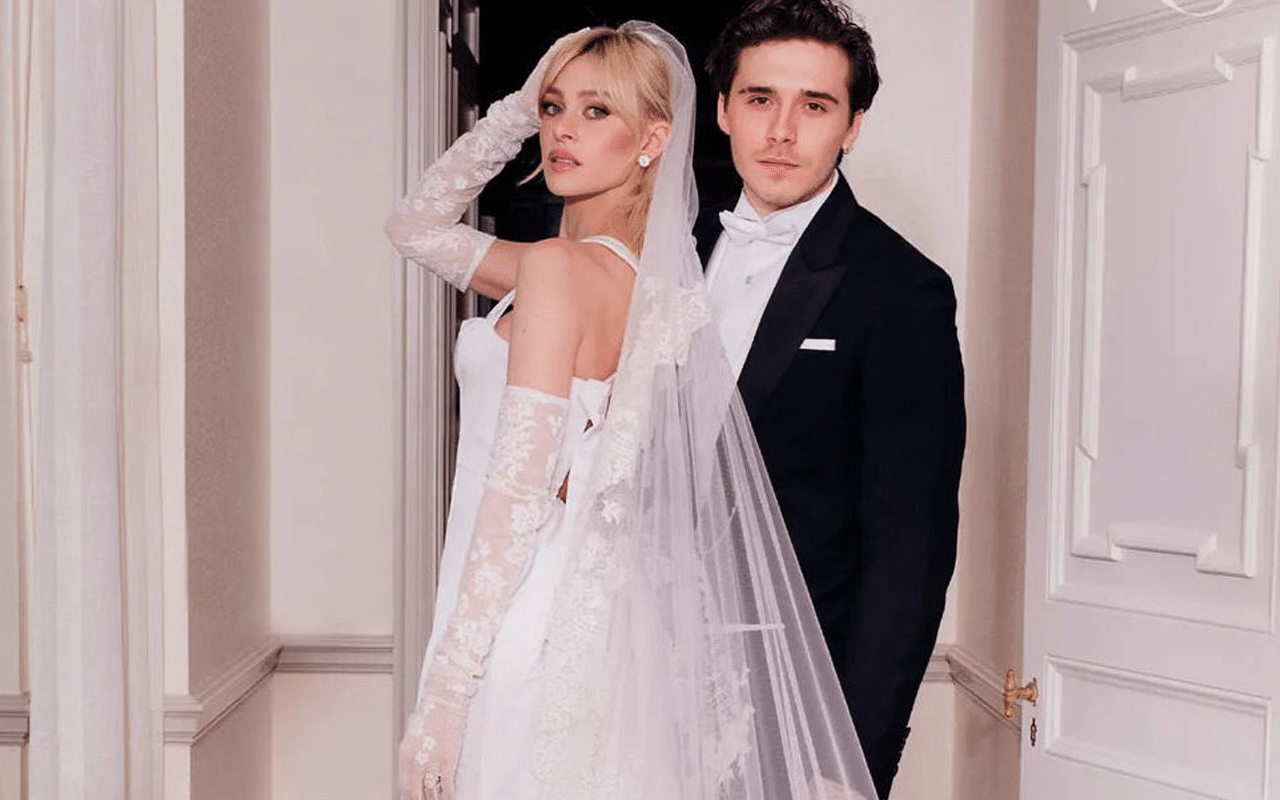 @voguemagazine
https://www.instagram.com/p/CcMVCdjrY65/
https://www.instagram.com/p/CcMXzbTrZvg/
https://www.instagram.com/p/CcMOTvThjFw/
https://www.instagram.com/p/CcLrtd8sREa/
https://www.instagram.com/p/CcMPFCzrVhk/
https://www.instagram.com/p/CcMJDbILgVQ/
Brooklyn Beckham and Nicola Peltz have tied the knot! After two years of dating, the happy couple wed at the Peltz family's sprawling beach-front estate in Palm Beach, Florida. While many know the groom as the eldest son of the other British royal family, headed by football legend David Beckham and Spice Girl-turned-fashion designer Victoria Beckham, it was the bride's family who spared no expense footing the bill. Nicola is the daughter of American businessman and billionaire, Nelson Peltz, and former model Claudia Heffner, with the family's net worth coming in at over $2 billion. As expected, the young couple allegedly signed an iron-clad prenup.
So what do you get when money is no object from either side of the couple? From celebrity guests to celebrity chefs, here's everything we know about the nepotism baby wedding of the year.
The Rehearsal Dinner
Festivities began on Friday night with a rehearsal dinner at the Peltz's Palm Beach home. The couple's famous friends and family were spotted rolling in, including Eva Longoria, Serena Williams, and Gordon Ramsay; long-time friends of the Beckhams. The other Beckham children were also spotted arriving in style, with Romeo pulling up in a Maserati, and Cruz rolling in on a golf cart.
The Ceremony
On the big day itself, Brooklyn and Nicola said "I do" in an indoor ceremony on the Peltz property. The ceremony was said to combine Catholic and Jewish traditions, honouring Nicola's mother and father respectively. Exclusive photos from Vogue showed Nicola walking hand-in-hand with her father on their way to the ceremony, holding a bouquet of white orchids. According to People, the ceremony was "short but sweet", with the bride and groom saying their own vows before their 600 guests.
As a sweet touch, Nicola's grandmother served as maid of honour, while Brooklyn's younger brothers Romeo and Cruz made dashing groomsmen. The youngest Beckham, sister Harper Seven, made an adorable flower girl along with two others, wearing white cap sleeve dresses with black sashes.
Breaking from tradition, Brooklyn took Nicola's surname as his middle name, making the new couple Mr. and Mrs. Peltz Beckham
The Reception
Following the ceremony, guests were treated to a lavish reception in marquees overlooking the ocean with steps down to the beach. Celebrity performers included Latin singer Marc Anthony, DJ Fat Tony, and Snoop Dogg, while David Blaine put on a magic show during the cocktail hour.
As expected, no expense was spared on food and drink either. Wedding guests were served limitless glasses of Bollinger champagne coming in at $350 a bottle, while renowned chef Thierry Isambert designed and delivered the menu.
Both Brooklyn and Nicola's dads gave heartwarming speeches on the night, with an insider telling People that David "spoke about Brooklyn being born, their family life and how great of a mom Victoria is". The insider also shared that Nicola's father asked for donations to be made in support of Ukraine, in lieu of gifts for this special occasion.
The Morning-After Brunch
Finishing off the weekend-long celebration, the newlyweds joined their family and friends for brunch on Sunday morning, also at the Peltz estate.
The Look
The opulence of the three-day affair did not take away any attention from the gorgeous bride by any means. Nicola was the picture of elegance, wearing a custom Valentino Couture gown, which her stylist Leslie Fermar described as "the most beautiful dress [she's] ever seen". The gown was created by Valentino's creative director Pierpaolo Piccioli and his team, featuring a clean square neckline, a show-stopping train, long lace gloves, and a matching veil.
As a special touch, Nicola revealed her 'something blue' was a special message from her mother sewn into her dress.
Under the veil, Nicola sported a soft and romantic half-up half-down look with curtain bangs. Her hairstylist cited Claudia Schiffer in the 90s as her inspiration for the look.
"She's been sending me all of these rad images of early Claudia Schiffer – including pictures of her with bangs – so they inspired us, plus the dress, which is just beautiful," hairstylist Adir Abergel told Vogue.
As for beauty, Chanel make-up artist Kate Lee opted for a "fresh, natural look […] to accentuate [Nicola's] natural features".
After the lavish celebrations, Brooklyn and Nicola took to Instagram to share photos from their special day.
Congratulations to the happy couple!