Bella Thorne is coming to Armie Hammer's defense.
Just days after Armie Hammer was accused of alleged abusive behaviour, sexual dominance, substance abuse, and cannibalism, Bella Thorne is standing by the actor.
The accusations started with anonymous Instagram account @houseofeffie who shared a slew of unverified messages from the Call Me By Your Name star which reference drinking blood, eating body parts, and describe scenes of sexual violence. The accuser claims she was one of several side girlfriends Armie Hammer kept while married to Elizabeth Chambers.
The girlfriends allegedly found out about each other and began exchanging disturbing messages from the 34-year-old father which she shared in the hopes of protecting other women from the actor.
Amongst those defending Armie Hammer is singer-actress Bella Thorne. In response to a Variety post about the news, the 23-year old wrote on Instagram stories, "I honestly can't believe this…People are crazy to fake this kinda shit this poor guy and his kids like leave him and his family alone. No way he's a freaking CANNIBAL…"
She added: "Also, there's a million fake screen shots going around."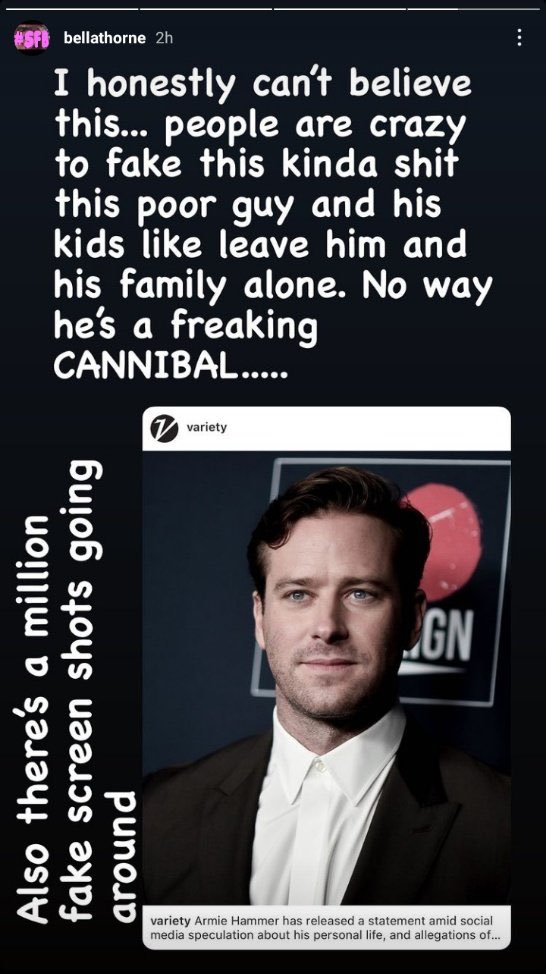 Despite several falsified messages floating around, @houseofeffie maintains the messages she shared are valid.
On January 13th, Armie Hammer responded to the allegations in a statement to E! News, revealing the scandal has forced him to step back from his recent film project Shotgun Wedding alongside Jennifer Lopez: "I'm not responding to these bullshit claims, but in light of the vicious and spurious online attacks against me, I cannot, in good conscience now, leave my children for four months to shoot a film in the Dominican Republic. Lionsgate is supporting me in this and I'm grateful to them for that."
If you or someone you know has been a victim of sexual misconduct of any sort, please call the Australian National Sexual Assault Support line at 1800 737 732.