@afterparty
https://www.instagram.com/p/CaaO-XhPJJi/
https://www.instagram.com/p/CbWAXdbvrGG/
https://www.instagram.com/p/CbVZU0fpDJi/
It's 2022, and the world's first-ever NFT-gated art and music festival hosted by Web3 company, Afterparty, just happened over the weekend. 
From March 18-19, festival-goers flooded into the Area 15 venue in Las Vegas for a tech-forward experience of art, music, and entertainment. The only catch— there were no tickets. Instead, those in attendance fought to get their hands on one of 1500 Afterparty 'Utopians' NFTs, or they could buy or be gifted an NFT pass by a Utopians NFT owner.
Those with Utopians NFTs were given all-access artist passes to the two-day extravaganza, as well as free entrance to upcoming Afterparty events this year.
The event was held in collaboration with Ryan Doherty and Chris Racan, who along with Afterparty, are strong believers in bringing NFT utility to the real world, starting with NFT-based ticketing.
On the musical front, Gen Z phenomenon The Kid Laroi and electro-pop duo The Chainsmokers headlined the festival, with other popular artists and DJs like Gryffin, LANY,  Charly Jordan, and Matt Steffanina drawing crowds. 
The festival was well-attended by celebrities and influencers of the up-and-coming generation, including James Charles, Josh Richards, David Dobrik, and TikTok's favourite photographer, Bryant Eslava.
This isn't the first time TikTok influencers have endorsed NFTs either. As the gamified trading card investments of the future, NFT trading has been increasingly marketed to Gen Z, with influencers like Addison Rae partnering with NFT companies and buying into collections.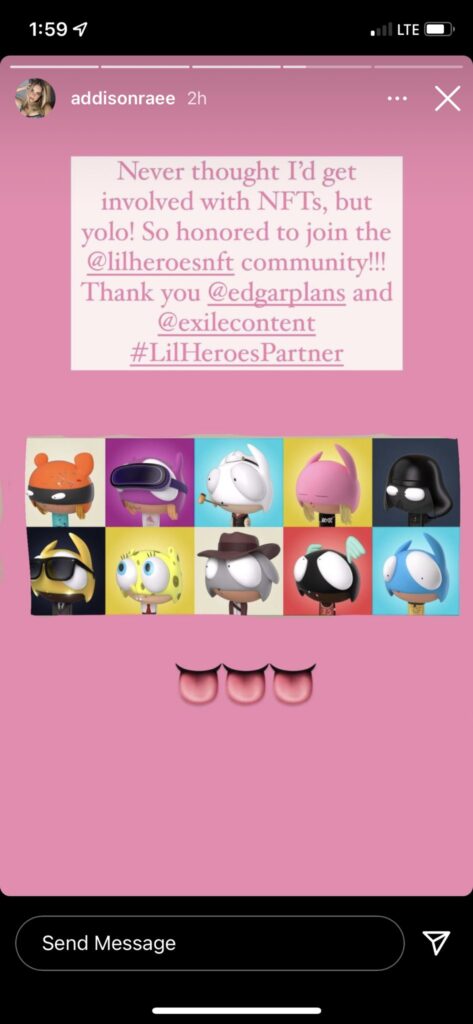 With the first NFT-gated event being such a hit, we can safely say this is just the beginning of a new age of arts and entertainment.