Bryce Hall / Addison Rae
https://www.instagram.com/p/B6Bt6mdhJ0c/
In more TikTok breakup news, the woman who allegedly hooked up with Bryce Hall while he was still dating Addison Rae says she and Addison are "on good terms".
On Wednesday, adult entertainer Dana Wolf— who was implicated in the demise of Gen Z's favourite power couple Braddison— posted a screenshot of her alleged DMs with Addison after the cheating scandal, writing, "Addison and me are on good terms". The messages show Dana apologising while Addison thanks the model and tells her "it's okay". Addison then seemingly asks Dana if Bryce said "anything to you once people told him they knew […] did he text you mad?"
"I know you can't look at the texts but I'm just curious on how he reacted," Addison writes.
Dana deleted the post shortly after posting it. Though we're unable to confirm if the DMs are legitimate, these messages appear to go against Bryce's narrative that he did not cheat on Addison.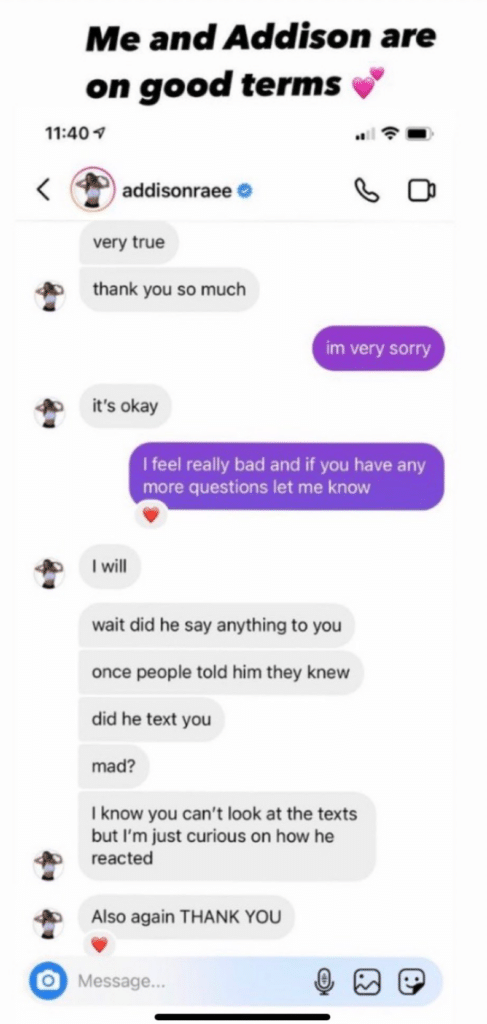 Back in February, Bryce took a private jet to Las Vegas with a group of influencers, adult entertainers, and his management team.
An adult actress by the name of Dana Wolf texted a friend that she allegedly slept with the 21-year-old viral star. Despite several accounts from party-goers that Bryce stayed faithful to Addison that evening, the scandal appeared to play a role in the demise of their on-again-off-again relationship, with both Bryce and Addison confirming their split one month later.
Since the breakup, Addison has been linked to Logan Paul— a rumour that was actually fuelled by Bryce himself when he went on the BFFs podcast with Josh Richards and Dave Portnoy— and rapper/singer/songwriter Jack Harlow. Bryce has been linked to Logan's ex-girlfriend Josie Canseco. However, Logan is now allegedly dating Charly Jordan, so it seems the Addison/Logan/Bryce/Josie love cube is defunct.
To make things even more confusing, Bryce and Addison were spotted getting cosy together at Jake Paul's fight back in April.
While the jury's still out on a Braddison reunion, we think it's safe to assume those messages posted by Dana are months old and that both Bryce and Addison have moved past it.